When you think of private jets, the first brand that likely comes to mind is Gulfstream. No other jet brand has been a part of pop culture like Gulfstream, a name immortalized in songs and music videos and made synonymous with luxury or the "high life." A huge part of this reputation comes from the Gulfstream G550, winner of the prestigious Robert J. Collier Trophy when it was the company's flagship aircraft.
History and technological breakthroughs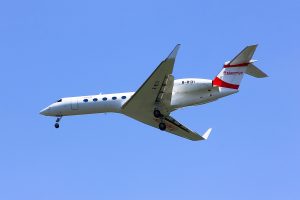 The $46.5 million Gulfstream G550 entered service in 2003. It was the first business jet of its kind to feature a "glass cockpit" called PlaneView – a technology aviation industry insiders dreamt of for decades. Technology features include four 14-inch LCD displays that cover the entire instrument panel, offering pilots more viewing area and the ability to see every instrument and data set necessary to fly the jet. Gulfstream also delivered on its promise to add space to the cabin and increase range with this model.
Record-breaking performance
The G550 boasts the ability to fly 6,750 nautical miles nonstop while still being nimble enough to take off from short-field and high-altitude airports. It can fly 12 hours nonstop while transporting 19 passengers.
While the G550 might not be the fastest business jet today, it has set some remarkable records of its own. In December 2013, Gulfstream set a new city-pair distance record with the G550, taking off from Tokyo's Haneda Airport in and landing at Florida's West Palm Beach International Airport in just 12 hours and 32 minutes.
A legacy of quality and excellence

This month, Gulfstream announced that it delivered its 550th G550, cementing the aircraft's position of quality and excellence in the world of business aviation. Although it has been around for more than a decade, the G550 still boasts a set of impressive features.
For starters, wireless internet, satellite communication, and an iridium phone and printer come as standard equipment, according to Gulfstream, allowing you to continue being productive in the air. Owners can also configure their G550s to accommodate beds for eight people or fit four living areas such as a private stateroom, rest areas for the crew, and an entertainment space.
Fourteen years after its initial release, the Gulfstream G550 continues to live up to its fantastic reputation.
If you are considering purchasing or selling a business jet, contact the professionals at L & L International. You can reach our sales specialists today at sales@L-Lint.com, call us anytime at +1.305.754.3313, or
visit us online
.