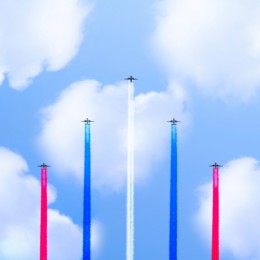 In the wake of Independence Day, it is a good time to remember all of the Americans who have made this country great. A number of exceptional U.S. citizens made a huge impact in aviation throughout history and contributed to its ongoing growth and success.
Let's learn a little more about these great American aviators.
Bessica Raiche (April 1875 – April 1932)
A Wisconsin-born renaissance woman who broke the mold of how women in the early 20th century were supposed to behave, Bessica Raiche routinely wore pants, was an accomplished linguist and musician, and became the first American woman to make a solo flight in an aircraft (that she and her husband built by hand!). In 1910, Bessica was awarded a diamond-studded gold medal, inscribed "First Woman Aviator in America" at a dinner in her honor hosted by the Aeronautical Society of America. Bessica and her husband went on to build two more airplanes and became known for their innovative use of light-weight materials such as piano wire instead of heavy iron wire.
Amelia Earhart (July 1897 – July, 1937)
A Kansas-born record-breaker and pioneer in American aviation history, Amelia Earhart is most known as the first female pilot to fly solo across the Atlantic Ocean. Of course, her Atlantic crossing wasn't the only important flight she made. She was also the first pilot to fly solo from Hawaii to the U.S. mainland in 1935, the first person to fly solo between Los Angeles and Mexico City, followed by a solo flight from Mexico City to Newark. A best-selling writer, she contributed books about her experiences as a pilot and helped form The Ninety-Nines, an organization for female pilots.
Charles Lindbergh (February 1902 – August 1974)
This Michigan-born emerged suddenly into world fame as the result of a solo, nonstop flight made from New York's Long Island to Lebourget Field in Paris, France. The distance was nearly 3,600 miles in a single seat, single-engine monoplane called Spirit of St. Louis. The distinction of this flight was that Lindbergh was the first person in history to be in New York one day and in Paris the next. It was a record-setting flight that took 33.5 hours.
Jacqueline Cochran (May 1906 – August 1980)
Florida-born Jacqueline Cochran was considered one of the best racing pilots of her generation. She was an important contributor to the wartime Women's Auxiliary Army Corps (WAAC) and the Women Airforce Service Pilots (WASP). The only woman pilot to compete in the 1937 Bendix race and the first woman to fly a bomber across the Atlantic in 1941, Jacqueline's best claim to fame is as the first female aviator to break the sound barrier in 1953. Referred to as the "Speed Queen" by Amelia Earhart, Jacqueline held more distance, altitude, and speed records than any other pilot at the time of her death.
Noel Wien (June 1899 – July 1977)
Another Wisconsin-born aviator, Noel Wien learned to fly as a barnstormer in Clarence Hinck's Federated Fliers Flying Circus. It is thanks to Wien that Alaska now has a higher ratio of aircraft and pilots to residents than any other state in the U.S. In the 1920s, Wien saw a need for pilots in Alaska and played a major role in making aircraft the primary mode of transportation in the vast state over the next 50 years. Noel was the first American to fly north of the Arctic Circle and he made the first commercial flight between Fairbanks and Nome, Alaska. He ultimately was the first to fly year-round service through the dismal Alaskan winters — all without a radio, virtually no paved landing strips, and hand-written maps.
Let's remember all of the exceptional American aviators who paved a path of success for our generation!