As the private aviation industry moves in a more sustainable direction, airframe makers are exploring concepts that defy traditional models. Embraer is embracing a scattershot approach to their "jet of the future" design.
Unveiled in late November, its Energia series of concept jets reveals bold new designs for four sustainable propulsion technologies. The airframe maker is thinking outside the box with disruptive designs that harness emerging energy sources for high degrees of efficiency. And while they're still concepts, the Energia series already has the industry buzzing.
A sustainable perspective
Virtually every airframe maker is planning for a future in which fuel efficiency is a defining feature of jet design. Some are experimenting with more efficient fuselage design, and others are incorporating next-gen avionics to optimize flight efficiency. Embraer is one of the few legacy airframers focused primarily on sustainable propulsion.
Each of the four jets unveiled as part of its Energia series features a concept propulsion system designed specifically to reduce or eliminate emissions — either by itself or with the help of sustainable aviation fuels (SAF).
Arjan Meijer, president and CEO of Embraer Commercial Aviation, says, "Embraer has been working diligently over the last couple of years on new concepts, and over the last 12 months, we've really defined how new technologies can be translated into concepts that we can see on the horizon. We want to show the world the vision that Embraer has of the future."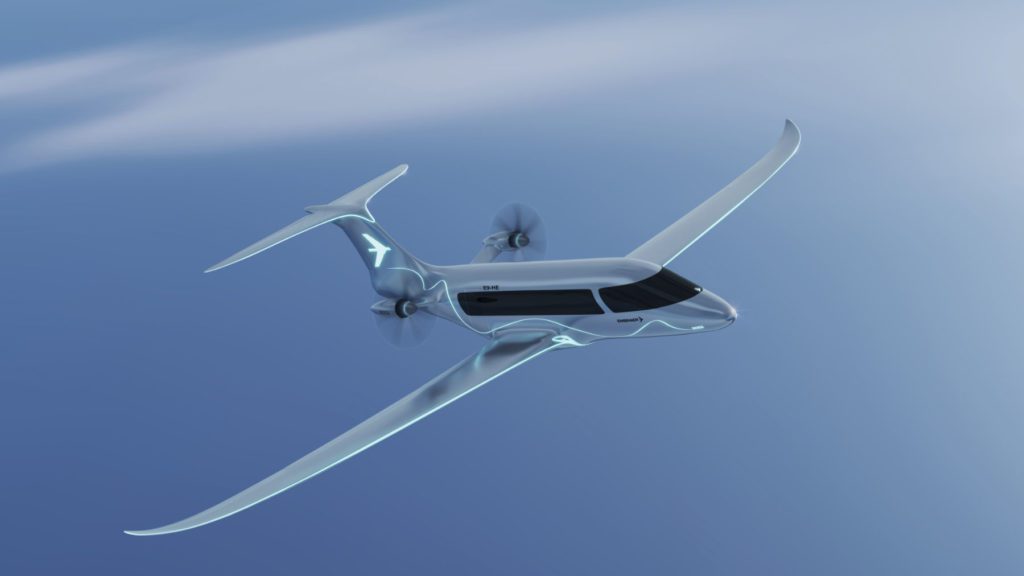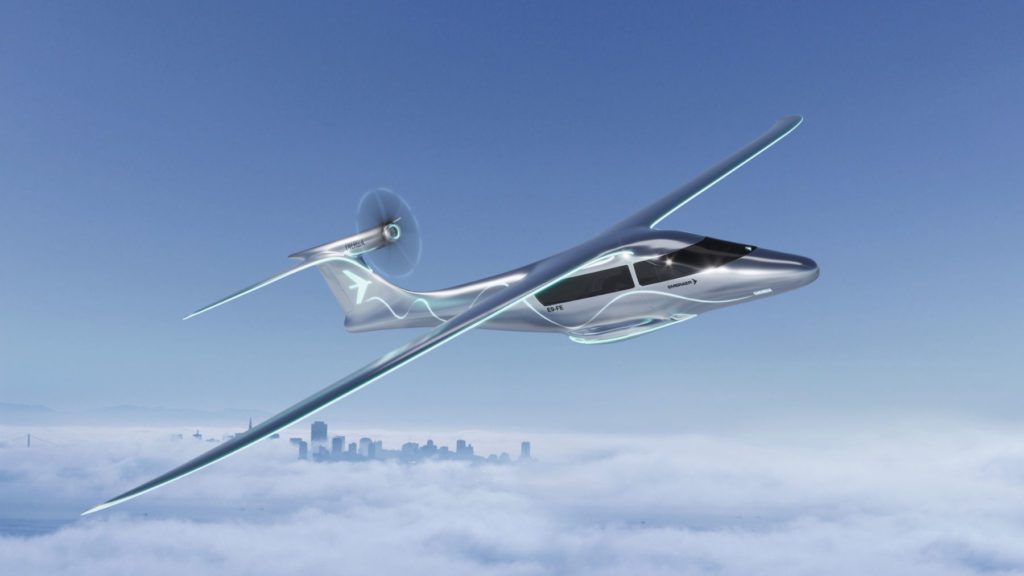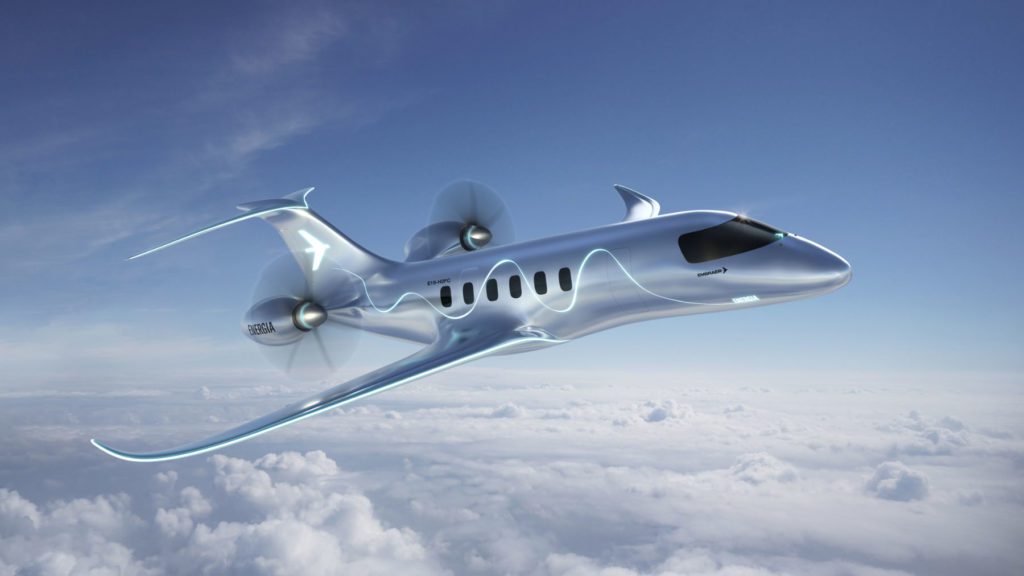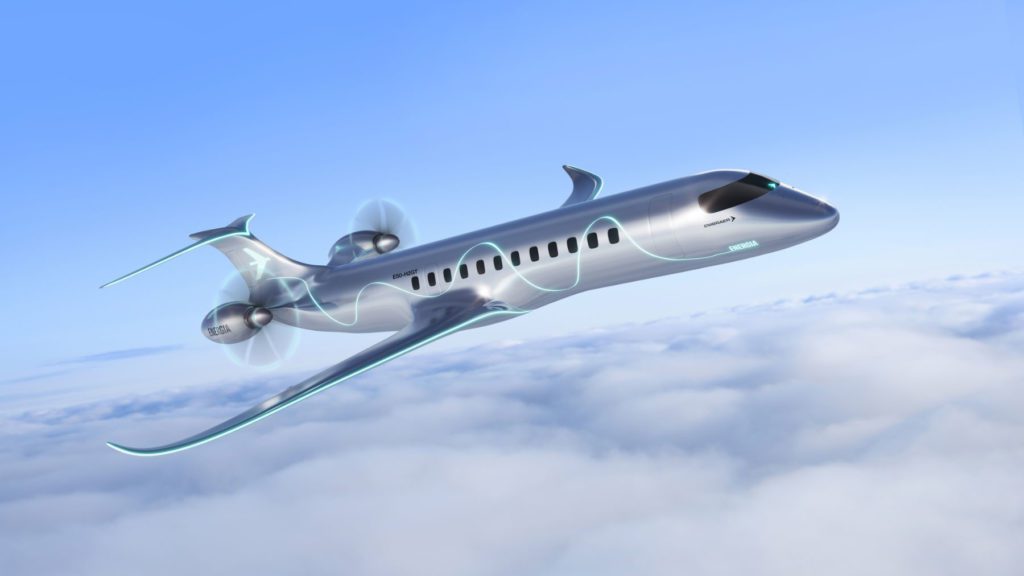 Meet the Energia family of concept jets
Embraer has hinted that most, if not all, of its Energia prototypes will begin testing within the next few years. Here's a preview of each Energia concept:
Energia Hybrid (E9-HE). This nine-seat jet features hybrid-electric propulsion that decreases CO2 emissions by up to 90%. It's propelled by two rear-mounted turboprop engines.
Energia Electric (E9-FE). A full-electric nine-seater, this unique design features aft contra-rotating propellers. Embraer sees this as a net-zero carbon jet pending technology advancements in electric propulsion.
Energia H2 Fuel Cell (E19-H2FC). Another zero-emission jet, this 19-seater features rear-mounted electric engines and hydrogen-electric propulsion.
Energia H2 Gas Turbine (E50-H2GT). The largest of the Energia series, this 30-50-seater, dual-turbine jet relies on hydrogen or SAF for its fuel source. Its carbon neutrality depends on pending advancements in hydrogen fuel cell technologies.
According to Embraer, each jet presents new opportunities for its own specific niche of private air travel. Those with dual or hybrid propulsion systems also offer enticing possibilities for fuel-adapted routes — depending on distance and speed demands.

Waiting on the tech to catch up
According to Arjan Meijer, Embraer's scattershot approach to propulsion prototyping is largely due to the pending availability of necessary technologies. Advancements in hybrid-electric, electric, hydrogen, and dual-fuel gas turbines are forthcoming. When they do come to market, Embraer stands ready to expediently incorporate them into its concept designs.
Given the current development trajectory, Embraer's Energia concept jets are likely to take flight over the next 3-5 years. Embraer has already demonstrated a strong commitment to the future of sustainable flight. Its entire fleet is on track for SAF compatibility by 2030. The Energia line reinforces the company's dedication with its diverse approach to sustainable aviation.