Virtual reality (VR) is one of the most talked-about technologies of the last decade, with new use cases springing up everywhere. Private aviation is one benefactor of VR, with everything from virtual jet tours to virtual pilot training. Now, famed airframer Airbus is adopting VR technology to help its customers build their perfect jet interior, one detail at a time. The ACJ TwoTwenty Creative Studio offers an immersive experience for personalized luxury like never before.

Comfort takes center stage
Concerning the trifecta of speed, distance, and comfort, cabin customization has become one of the most in-demand facets of private jet ownership in recent years. As jets hit speed and distance caps for their classes, comfort has become a primary selling point, particularly among new bizjet and private jet owners.
Cabin customization has always been a selling point for airframers — usually in the form of 2 to 5 pre-set configurations that focus on business, entertainment, lifestyle, and others. Now, Airbus's ACJ TwoTwenty Creative Studio is giving jet buyers even more opportunity to create comfort that's specific to their vision (literally).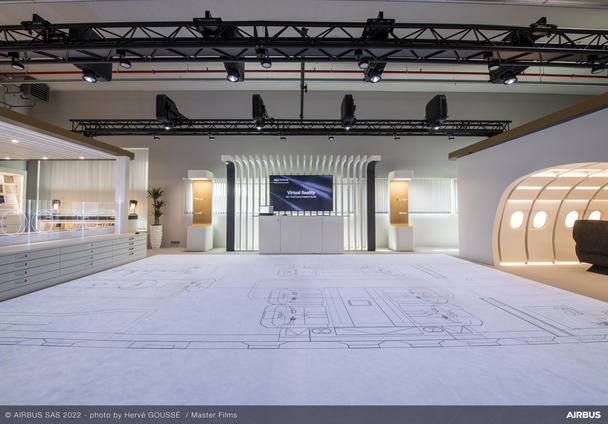 Exploring the ACJ TwoTwenty Creative Studio
Airbus rolled out its new immersive VR experience specifically for customers purchasing its ACJ TwoTwenty business jet. It's as much a feature as it is a necessity when it comes to customizing the 785 square feet and six separate living zones offered by this massive jet.
Airbus' Creative Studio uses a Quest 2 VR headset that allows customers to step into a real-size section of the cabin for a virtual walkthrough, while customizing various features and styles as they choose from countless personalization variables. Customization opportunities include:
Cabin layouts and living spaces, including furniture and electronics.
Color schemes, with more than 100 different fabrics and materials to choose from.
Ambiance features that include lighting, fixtures, and arrangements.
Customers can select and modify their preferences in real-time, in an environment specifically engineered to give them complete control over cabin interior. The company claims that, not only will VR improve the customer experience, it also will expedite cabin design and customization times.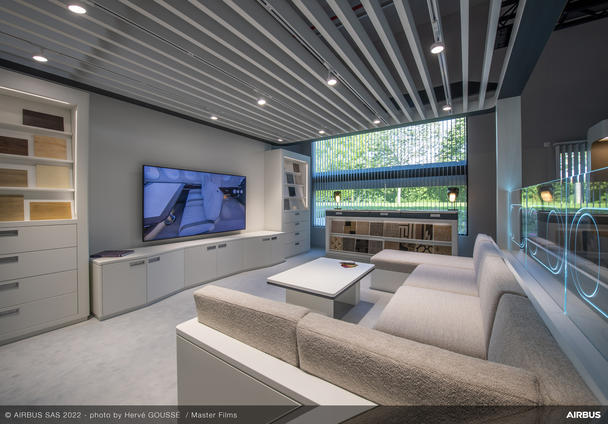 Setting a new standard for luxury
To kick off the VR Creative Studio, Airbus has announced that noted Swiss interior firm Comlux will bring the first 15 custom cabins to life in stunning detail. The company has already taken orders for six TwoTwenty bizjets, with two undergoing customizations for one of Dubai's premier luxury resorts: the FIVE Palm Jumeirah hotel.
While Airbus hasn't yet announced its intention to expand the VR Creative Studio to additional jet customizations, it's likely that it will — especially for its massive ACJ 350. What's more, other airframers are likely to take cues from the positive reception of the VR Creative Studio as they seek to meet customer expectations for cabin comfort and accommodation.
The expert jet brokers at L & L International are here to help you acquire the perfect jet.
Need to sell your jet? We can assist with that, too.
Contact
the private aviation professionals online, at
sales@L-Lint.com
, or at
+1 (305) 754-3313
.