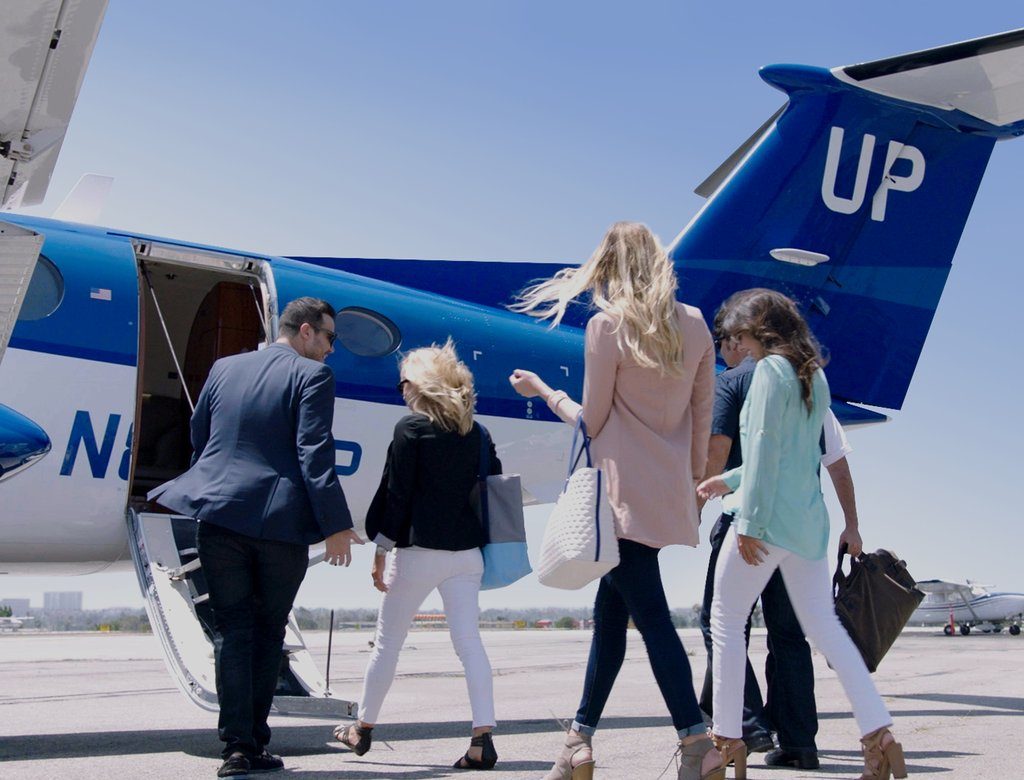 Commercial aviation and business aviation have always had a tangential relationship. Now, they're about to intersect in a very meaningful way. Delta Air Lines and Wheels Up have entered into a partnership that brings the two arm-in-arm, offering charter services to a broader audience. It's a move hailed as the democratization of private aviation, and it's likely to have major effects on how private citizens, medium-sized businesses, and high-profile individuals experience air travel.
There's something unconventional about the concept of "the world's largest private jet fleet," but the partnership between Delta and Wheels Up promises to be something out of the ordinary in and of itself. Beginning early this year, Delta customers will have the option to book a charter flight on any of the 190-private aircraft in the Wheels Up fleet. In doing so, they'll get the luxury experience of private air travel, backed by the proven aviation operations of Delta: the world's second-largest airline.
A match long in the making

It was only a matter of time before Wheels Up struck a deal with a commercial carrier to begin making private aviation more accessible. The company has been broadly touted as an innovator in the private charter space since 2013, and recently surpassed a billion-dollar valuation to become a top player in the sector.

Delta Air Lines makes the most sense as a suitor for the company. The company's commitment to low fares jives with the mission to make private air travel more affordable. Delta's reputation for customer service also makes it an attractive option for Wheels Up as it seeks mass exposure to travelers. Asset-wise, the partnership is even more attractive. Delta's divestment of its Delta Private Jets (DPJ) subsidiary rolls 70 aircraft into the initial Wheels Up fleet of 115 jets, earning it the "largest in the world" moniker.

Most importantly for both companies, however, is Delta's access to major hubs throughout the country. Delta's largest hub is Hartsfield-Jackson Atlanta International Airport in Georgia, ideally located to launch private charters throughout the region. It also has prominent operating space at LaGuardia in New York, as well as Salt Lake City International Airport as the gateway to the West.
A look at the democratization of private aviation
With more customers having access to affordable charters at some of the nation's most convenient hubs, who's to stop everyday travelers from treating themselves to the high-class appeal of private aviation. The newlyweds on their way to their honeymoon. Established millennials willing to pay for privacy. Retirees who want to move at their own pace. The value proposition of affordable, accessible private charters is one that resonates with many groups.
The key to democratizing private aviation isn't just lower rates — it's the brand equity Delta brings to the table. It's a name flyers trust. Connected to Wheels Up, it's an opportunity to tap into a something beyond first class for the first time.
The expert jet brokers at L & L International are here to help you acquire the perfect jet.
Need to sell your jet? We can assist with that, too.
Contact
the private aviation professionals online, at
sales@L-Lint.com
, or at
+1 (305) 754-3313
.