Bombardier's new Challenger 3500 will replace its Challenger 350 models beginning in mid-2022. A critical piece of Bombardier's push into the super-midsized arena, the new Challenger 3500's base model will sell at the same price point as its predecessor: $26.7 million.
A refined interior
Competition in the super-midsized category begins in the cabin, and it's where Bombardier has focused the bulk of its upgrades for the Challenger 3500. The jet's refreshed interior borrows heavily from the wildly popular Global 7500 model, bringing the creature comforts of a much more expensive long-range jet to a midsized package. Some of the improvements touted by Bombardier in its reveal of the Challenger 3500 include: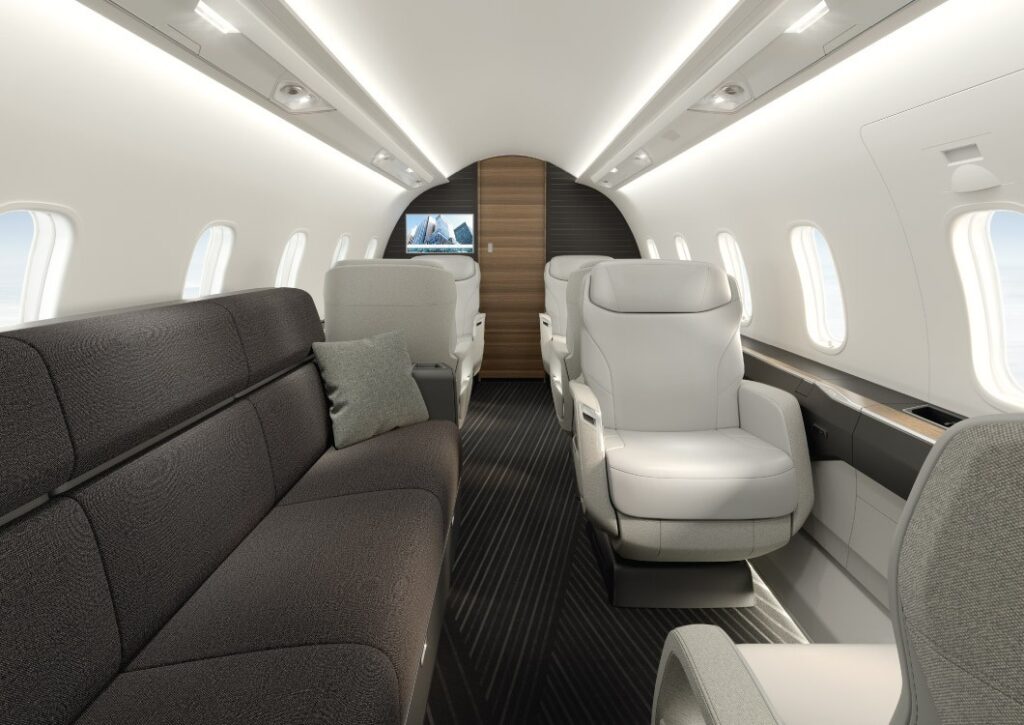 Nuage seats, debuted in the Global 7500, that fully recline and move on floating bases
A see-through wine cooler, and storage for wine glasses, in the forward galley
A swath of cabin management and entertainment upgrades, including voice controls
Wireless device charging built into the furnishings for a true cordless experience
Sustainable furnishing materials, including upcycled wool and polyester
Bombardier has also redesigned the jet to lower cabin altitude by 2,000 feet. Passengers will experience cabin pressure that mimics 4,850 feet, while cruising at an altitude of 41,000 feet — a truly impressive 31% improvement over the Challenger 350's cabin.

Avionics and flight control
The Challenger 3500's improvements don't stop in the cabin. Pilots will benefit from cockpit technologies taken from Bombardier's Global 7500 jet, including a Safe Flight auto-throttle — which reduces pilot workload and makes for more efficient engine control.
Pilots will find themselves at the familiar helm of a Rockwell Collins Pro Line 21 avionic suite, giving them state-of-the-art capabilities, including optimal route charting for the most sustainable flightpath.

Focus on new buyers and market penetration
Bombardier's decision to revamp the Challenger 350, and breathe new life into the super-midsized jet market, comes at an extraordinary time. Used jet inventories are low, and new buyers are entering the market in droves. The super-midsized category is poised to become a hotbed for buying activity. As the hot new jet on the market — equipped with game-changing comfort upgrades — the Challenger 3500 stands to capture buyer attention in a market ripe for competition.
With its new improvements, the Challenger 3500 stacks up well against other popular jets in its category, including Embraer's Praetor series, the Citation Latitude, and the Gulfstream G280. Buyers face a difficult choice at this price point — one made even more challenging with Bombardier's newest addition.
The expert jet brokers at L & L International are here to help you acquire the perfect jet. Need to sell your jet? We can assist with that too.
Contact
the private aviation professionals online, at
sales@L-Lint.com
, or at
+1 (305) 754-3313
.