In private aviation, the ability to set records distinguishes an aircraft from its competition. But with Rolls-Royce's new Spirit of Innovation electric craft, records are less about beating the competition and more about charting the course toward an EV future. The famed engine maker's latest record-setting feat spotlights the potential for light electric aircraft and their ability to zip from city to city. It's an exciting prospect for an emerging industry — one garnering a lot of attention in recent years.
Meet the Spirit of Innovation
The aptly named Spirit of Innovation represents Rolls-Royce's commitment to the third age of aviation: net-zero electric aircraft. The craft was designed to showcase the phenomenal potential of an all-electric craft — and to mark it as a contender in the emerging sustainable fuels market.
Armed with an astounding 550 horsepower, the Spirit of Innovation shattered the existing speed record for an all-electric aircraft. In fact, the craft set three unique records in a single test flight. Its 387.4 mph speed beats the previous record of 213 mph, held by a Siemens-powered Extra 330LE. The craft also set a record for fastest time to a 3,000-meter (9,843 feet) altitude at 202 seconds and another for fastest average speed at 345.5 mph.
And the Spirit of Innovation did it all with zero emissions.

Designed to showcase the future
The Spirit of Innovation is a collaborative effort to establish the framework for an all-electric fleet of light jets in the future. The current iteration is breaking records because of its innovative fuselage, powerful motor, and a cutting-edge battery design.
The craft's 550 horsepower comes from its 400 kW, 750-volt motor — now a certified proof of concept for effective battery-powered propulsion. According to Rolls-Royce, it's backed by the most power-dense propulsion battery pack ever assembled in the aviation sector — featuring some 6,480 cells.
Satisfying future demand for speedy EVs
EVs aren't novel in aviation, but speed has not traditionally been their strong suit. While many airframe makers and aviation startups are banking on EV potential for regional or intercity trips, the Spirit of Innovation is the first to illustrate their potential for displacing regional jets as a form of rapid transportation.
Rolls-Royce's Accelerating the Electrification of Flight (ACCEL) program has been exploring this niche for several years in collaboration with the UK government and the Aerospace Technology Institute. The goal isn't just to make EVs a viable solution for regional flight — it's to eliminate the harmful emissions associated with these trips. The Spirit of Innovation's speed records demonstrate the possibility of zero-emission, regional runs at speed.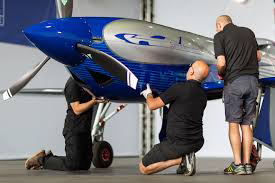 More innovation to come
The Spirit of Innovation may not look like the future of regional EVs, but this "tail-dragger" has proven speed and net-zero emissions can exist in a single craft. It's data Rolls-Royce's ACCEL program will take back to the drawing board as it seeks to design crafts to rival today's regional jets. Make no mistake: The third age of aviation is here, and these records won't be the last ones broken by a carbon-neutral EV.
The expert jet brokers at L & L International are here to help you acquire the perfect jet.
Need to sell your jet? We can assist with that, too.
Contact
the private aviation professionals online, at
sales@L-Lint.com
, or at
+1 (305) 754-3313
.