Daher recently announced the launch of its newest single-engine turboprop aircraft, the TBM 940. The French aircraft maker announced the launch during the Safety Seminar Meeting of the TBM Owners and Pilots Association in Pompano Beach, Florida, in March.
The new aircraft replaces the TBM 930, which debuted in 2016, as the upper-end TBM product. Upgrades on the TBM 940 include an automatic throttle and automatic de-icing system.
What's new on the TBM 940?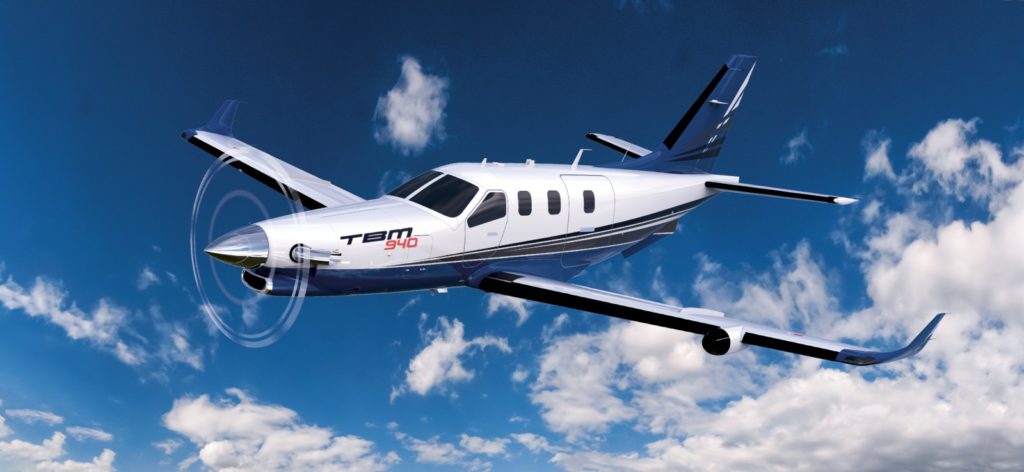 The Autothrottle system is a standout feature of the TBM 940. The TBM 940 is the first single-engine turboprop weighing less than 12,500 pounds to feature the automatic throttle. This allows the aircraft to automatically adjust its speed based on the preset flight profile. The Autothrottle is a single-lever control, decreasing workload for the pilot.
The TBM 940's de-icing system is also a first for CS-23 turboprops. The de-icing system is automatically activated when icing or ice accumulation is present on the airframe, propeller, windshield, and inertial particle separator, requiring no action from the pilot.
The TBM 940 also features an updated interior focused on style and ergonomics. There are numerous customization and configuration options for seating and storage. Daher also added additional thermal insulation to the sidewalls. With an extra 115-volt electrical outlet and an extra USB port, all six passengers and three pilots have their own USB port.
A closer look at the specs

The aircraft seats a maximum of six passengers and has a maximum payload of 1,400 pounds. Its upper cruising speed is 330 knots, with a range of 1,730 nautical miles — stats it shares with the TBM 930. Its fuel consumption on economy cruise is 37 gallons per hour thanks to aerodynamic improvements and other aircraft enhancements. The aircraft features Garmin G3000 avionics and a Pratt & Whitney Canada PT6A engine.

According to Nicolas Chabbert, Senior Vice President of the Daher Airplane Business Unit, "The TBM 940 redefines the ultimate private aircraft: user-friendly, safe, and efficient for both pilots and passengers. This newest TBM family member underscores our firm commitment to constant improvement for the ownership and operational experience with our very fast turboprop aircraft."
When will the TBM 940 arrive?
Deliveries are expected to begin this spring, following certification from the European Union Aviation Safety Agency (EASA) and Federal Aviation Authority (FAA). The TBM 940 is expected to be available for charter in late 2019 or early 2020. The baseline model TBM 910 will retail at $3.9 million.
Daher has delivered more than 267 aircraft from the TBM 900 product series, which includes the 900, 910, and 930. TBM has been popular since the launch of the TBM 700 in 1991, with almost 1,000 TBMs delivered to customers worldwide.
Daher builds its TBM aircraft on an industrial site at the Tarbes-Lourdes-Pyrénées Airport in Haute-Pyrénées, France.