Speed, comfort, and range are the trifecta of power for bizjets. And there's a new champion across all three pillars: the Bombardier Global 8000. Set to become the world's fastest bizjet, with speeds reaching above Mach 1, the Bombardier Global 8000 has a range of 8000nm and delivers what Bombardier promises will be the smoothest ride of any jet in its class. It's a true marvel of engineering and one setting the stage for an even more exciting future for private aviation: supersonic jets.
Butting up against the supersonic barrier
With a Mach 0.94 cruise and top airspeeds that have broken the sound barrier during test flights, Bombardier's Global 8000 is built for speed. In fact, it's being hailed as the "missing link" between modern bizjets and the supersonic future: the fastest commercial jet since the Concorde. And while it's not technically a supersonic jet, it's almost certainly a steppingstone on the way to them when it enters service in 2025.
What makes the Global 8000 so speedy? In addition to its dual GE Passport engines, the jet features a revolutionary Smooth Flĕx Wing design that both reduces drag and improves control and agility. Unique design affords this jet a high-lift wing for low-speed agility and a high-speed wing for speed and range.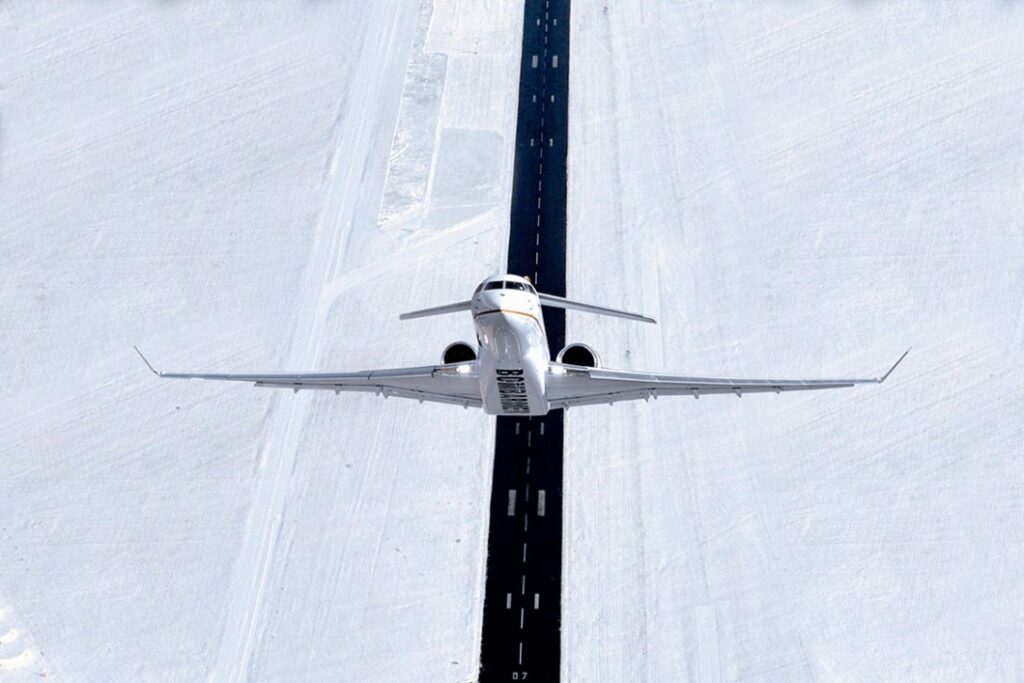 Distance is no obstacle
Bombardier's Global 8000 is the perfect marriage of speed and distance. The jet opens a slew of new flight paths previously inaccessible to even the longest-ranged jets, including Dubai to Houston, Singapore to Los Angeles, and London to Perth. It's the only four-zone cabin business jet with this range, making it a standalone leader in the ultra-long-range jet class.
The Global 8000 is a testament to Bombardier's Global line of jets, which were originally designed to be the undisputed leaders in ultra-long-range travel. This jet builds on the proven success and lauded performance of its predecessor: the Global 7500. The Global 8000 adds roughly 300nm to the jet's range, equating to roughly half a dozen more city-pair routes.
Comfort above all else
Those traveling around the world in Bombardier's Global 8000 will find themselves with no shortage of amenities and luxuries as they fly. The jet is chock-full of accommodations that make it the best option for comfort, in addition to speed and range:
"Pur Air" technology with advanced HEPA filters.
Zero-gravity Nuage seats, a bed, and a kitchen.
Four-zone design: club, conference, entertainment, and living suites.
4K TV, complete with Bombardier's l'Opéra audio system.
Touch dial and suite controllers for sound, lighting, and temperature.
Circadian rhythm-based Soleil lighting, to reduce feelings of jet lag.
Wi-Fi connectivity from Ka-band worldwide.
Kitchen area, complete with microwave oven, sink, and refrigerator.
With the ability to comfortably carry 19 passengers, the Global 8000 is a testament to experiential design. The jet promises to fulfill on speed, distance, and comfort in uncompromising fashion.

The final step toward supersonics
With the finest amenities of the modern era and the ability to break the sound barrier, Bombardier's Global 8000 is an important milestone as we move toward a supersonic future. The Global 8000 could well be the last sub-sonic ultra-long-range jet of this era. After all, it's pushing the envelope for speed, distance, and comfort. Anything faster will need to go supersonic just to keep up.