[et_pb_section bb_built="1″ fullwidth="on" specialty="off" background_image="https://l-lint.com/wp-content/uploads/2016/03/slider_1_1.jpg" transparent_background="off" allow_player_pause="off" inner_shadow="off" parallax="off" parallax_method="off" padding_mobile="off" make_fullwidth="off" use_custom_width="off" width_unit="on" make_equal="off" use_custom_gutter="off" custom_padding_tablet="50px|0|50px|0″ custom_padding_last_edited="on|desktop"][et_pb_fullwidth_header title="CORPORATE JET INSIDER" background_layout="light" text_orientation="center" header_fullscreen="off" header_scroll_down="off" background_url="https://l-lint.com/wp-content/uploads/2016/03/slider_1_1.jpg" background_overlay_color="rgba(255,255,255,0.82)" parallax="off" parallax_method="off" content_orientation="center" image_orientation="center" custom_button_one="off" button_one_letter_spacing="0″ button_one_use_icon="default" button_one_icon_placement="right" button_one_on_hover="on" button_one_letter_spacing_hover="0″ custom_button_two="off" button_two_letter_spacing="0″ button_two_use_icon="default" button_two_icon_placement="right" button_two_on_hover="on" button_two_letter_spacing_hover="0″ background_position="top_left" background_repeat="repeat" background_size="initial" background_image="https://l-lint.com/wp-content/uploads/2016/03/slider_1_1.jpg"] [/et_pb_fullwidth_header][/et_pb_section][et_pb_section bb_built="1″ admin_label="section"][et_pb_row admin_label="row" background_position="top_left" background_repeat="repeat" background_size="initial"][et_pb_column type="3_4″][et_pb_post_title title="on" meta="on" author="off" date="on" categories="on" comments="off" featured_image="off" featured_placement="below" parallax_effect="on" parallax_method="off" text_orientation="left" text_color="dark" text_background="off" text_bg_color="rgba(255,255,255,0.9)" module_bg_color="rgba(255,255,255,0)" title_all_caps="off" use_border_color="off" border_color="#ffffff" border_style="solid" background_color="rgba(255,255,255,0)" parallax="on" /][et_pb_text background_layout="light" _builder_version="3.0.85″]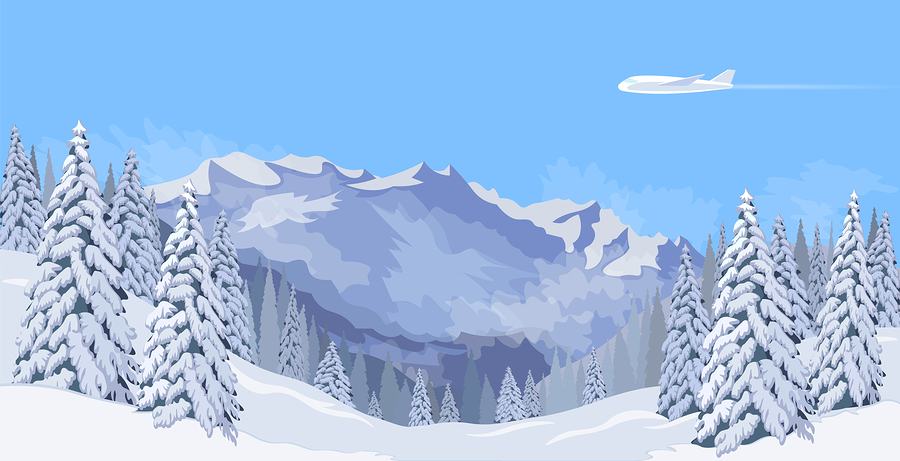 We've talked about the advantages of private and business travel over commercial airline travel in the past. Those benefits are even more pronounced when considering winter flying. Private jet travel provides an option flexible enough to schedule around bad weather. You don't have to worry about getting stranded at airports because of cancelled flights; however, winter jet travel does require more planning and precautionary measures to avoid the challenges this season presents.
Avoid the mess
Unfortunately for airlines and travelers, the busy holiday travel season also coincides with winter and the added challenges it brings. Snow storms can cause takeoff and landing problems, and ground traffic and air traffic congestion can cause further delays and cancellations. Commercial travelers are literally at the mercy of the airlines, and sometimes they never reach their destinations.
Private jets provide the flexibility to adjust flight times until about two hours before a flight — and sometimes even midflight. Private jet travelers can also change their routes to make use of smaller airports that experience less of a weather impact. Switching to the convenience of smaller airports may also allow private jet travelers to reduce their exposure to unsafe road conditions.
Private travel also lets them skip long security lines, which — given security threats and a busy travel season — are exceptionally long. Even the faster precheck security lines are long. In fact, precheck lines are sometimes longer than non-priority lines due to airline policies of assigning random passengers to the pre-check line.
Performance perks
Convenience and flexibility are not the only perks private jets provide during winter. Most jets perform better when the weather is cold. Cold air is more dense than warm air, and that positively affects performance metrics such as takeoff distance and climb rate. Also, colder air temperature allows jet engines to use a greater mass of air and fuel mixed, which results in greater power. Cold air usually produces less turbulence as well.
Winter precautions
With all the benefits jets provide winter travelers, private jet owners and operators also need to take precautions. Plan your flight carefully, considering aspects like how easily accessible airports are as well as weather patterns for the area. Make sure you file a flight plan and update it when necessary, and be willing to adjust flights when weather becomes an issue. But those aren't the only precautions you'll want to check off your list before taking off.
Check all hoses, clamps, and hydraulic fittings.
Check the engine oil to make sure it's the proper weight for cold weather.
Inspect the cabin heater to ensure no carbon monoxide is leaking.
Check for fuel contaminants from condensation, which can result from your pilot parking your warm aircraft in the cold.
Remove frost, snow, and ice before taking off. Store your jet in a warm hangar when possible and, when the engine is cold, follow the manufacturer's preheating instructions.
Don't let winter travel get you down. Avoid the headaches of winter airline travel and take advantage of the benefits you can experience through private jet travel.

[/et_pb_text][/et_pb_column][et_pb_column type="1_4″][et_pb_sidebar orientation="right" area="sidebar-1″ background_layout="light" remove_border="off" show_border="off"] [/et_pb_sidebar][/et_pb_column][/et_pb_row][/et_pb_section]