[et_pb_section admin_label="Section" fullwidth="on" specialty="off" background_image="https://l-lint.com/wp-content/uploads/2016/03/slider_1_1.jpg" transparent_background="off" allow_player_pause="off" inner_shadow="off" parallax="off" parallax_method="off" padding_mobile="off" make_fullwidth="off" use_custom_width="off" width_unit="on" make_equal="off" use_custom_gutter="off"][et_pb_fullwidth_header admin_label="Fullwidth Header" title="CORPORATE JET INSIDER" background_layout="light" text_orientation="center" header_fullscreen="off" header_scroll_down="off" background_url="https://l-lint.com/wp-content/uploads/2016/03/slider_1_1.jpg" background_overlay_color="rgba(255,255,255,0.82)" parallax="off" parallax_method="off" content_orientation="center" image_orientation="center" custom_button_one="off" button_one_letter_spacing="0″ button_one_use_icon="default" button_one_icon_placement="right" button_one_on_hover="on" button_one_letter_spacing_hover="0″ custom_button_two="off" button_two_letter_spacing="0″ button_two_use_icon="default" button_two_icon_placement="right" button_two_on_hover="on" button_two_letter_spacing_hover="0″] [/et_pb_fullwidth_header][/et_pb_section][et_pb_section admin_label="section"][et_pb_row admin_label="row"][et_pb_column type="3_4″][et_pb_post_title admin_label="Post Title" title="on" meta="on" author="off" date="on" categories="on" comments="off" featured_image="off" featured_placement="below" parallax_effect="on" parallax_method="on" text_orientation="left" text_color="dark" text_background="off" text_bg_color="rgba(255,255,255,0.9)" module_bg_color="rgba(255,255,255,0)" title_all_caps="off" use_border_color="off" border_color="#ffffff" border_style="solid"] [/et_pb_post_title][et_pb_text admin_label="Text" background_layout="light" text_orientation="left" use_border_color="off" border_color="#ffffff" border_style="solid"]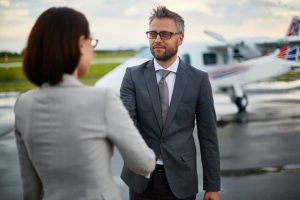 Before you consider purchasing a new-to-you jet, it's important to think about the best method of buying. Of course a flight before you buy and a careful pre-purchase inspection are critical steps, but if you're working with an experienced and connected aircraft broker, you automatically get some important benefits that can make your aircraft purchase much easier and safer.
Industry knowledge
One of the most common mistakes buyers make in aircraft purchases is not considering the full range of options. You may have a good idea of the type of plane, number of seats, and which amenities and features you want, but when you work with a broker like one of the L & L International LTD experts, you get deep industry knowledge. That knowledge can make certain that you are exposed to all the options available, so you purchase an aircraft that hits all the right high notes.
Search and acquisition
Another critical reason to work with an aircraft broker is the fact that an expert in the field always has an ear to the ground — so to speak. A broker not only knows which types of aircraft are available or on the horizon but also has the connections to acquire the aircraft that fits your needs perfectly.
Valuation analysis
In addition to the overall condition of the aircraft, the primary factors that affect aircraft resale value include the following:
Engine hours — If the engine is close to its next recommended overhaul, the value is lower. Equally important is a schedule of consistent use and a record of accurate maintenance.
Damage history — If the aircraft has been damaged, its value is decreased, depending on the type of accident, level of damage, and which components were involved.
Airworthiness — The airworthiness directives issued by the Federal Aviation Administration are facts of life for most aircraft and should be carefully scrutinized.
Equipment — Installed avionics, deicing technology, and other extras can add value in some cases. In others, these extras can mask an older aircraft that may or may not suit your needs.
Having an expert to interpret terminology like "zero-time" engine, overhaul, and more can make a big difference in judging the real value of the aircraft.
Lender coordination
If you're financing your aircraft purchase, your lender will have its own set of requirements. An experienced aircraft broker knows what those requirements are and stays on top of them without prodding or unnecessary reminders.
Paperwork handled
The forms for buying and selling aircraft are relatively extensive. The typical aircraft purchase will involve letters of intent, Aircraft Bill of Sale, purchase agreements, a U.S. Airworthiness Certificate, and more — and those are just a few. When all is said and done, having an aircraft reseller manage the paperwork is just plain useful.
[/et_pb_text][/et_pb_column][et_pb_column type="1_4″][et_pb_sidebar admin_label="Sidebar" orientation="right" area="sidebar-1″ background_layout="light" remove_border="off"] [/et_pb_sidebar][/et_pb_column][/et_pb_row][/et_pb_section]