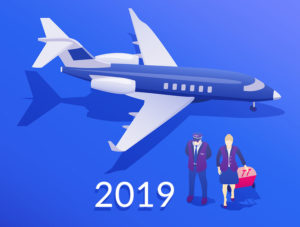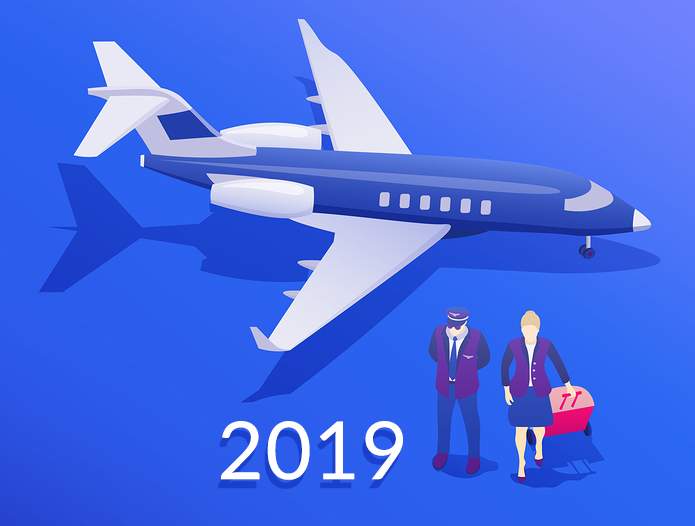 2018 was a big year for BizAv. Will 2019 show the same promise? It's hard to tell, with positive prospects and negative possibilities coming together in crosswinds that will slowly die down as the year moves forward. What we can do is look at emerging trends and upcoming milestones in the year ahead that will help shape the immediate future of BizAv.
2019 headwinds and tailwinds
The aviation industry has a lot going on right now, which makes for a tricky combination of headwinds and tailwinds. A few of the biggest include:
Pilot shortages: One of the most significant headwinds facing BizAv in 2019 is a shortage of pilots. The entire aviation industry is feeling this shortage, but it's most significant in private aviation where companies must compete with the consistency and stability that commercial airlines can offer their pilots.
Industry growth: Regardless of how the private jet market changes in the coming year, the industry is slated for growth. The pool of private jet clients and providers will grow in 2019, as will the availability of private jets worldwide, contributing to a major tailwind for the industry.
Tech upgrades: The boom of technology in recent decades has impacted virtually every industry, including BizAv. As aircraft designers and manufacturers become more tech-savvy, private aircraft are becoming more luxurious, more comfortable, and more efficient thanks to new technologies.
Market cycles: Like any industry, BizAv is subject to a cyclical market that rises and falls over time. Experts expect that a downturn in the U.S. economy could occur as early as October of 2019, so it's important for businesses in the BizAv industry to be wary of potential headwinds in the coming months.
Which of these trends are likely to continue in 2019? Signs point to the pilot shortage and tech upgrades, with the industry likely showing its cyclical nature later in the coming year.
2019 private jet launches
Those who are closely watching the BizAv industry can also look forward to the launch of new private jets in 2019. The Bombardier Global 8000 is scheduled for delivery in the coming year and will feature streamlined cabin design, seamlessly blending productivity and comfort. The Cessna Citation Hemisphere is another innovative jet that's currently on hold —but we may see deliveries in 2019 if Cessna presses on with the launch.
Upcoming BizAv events

On top of all the new market trends, technological developments, and product launches on the horizon, there also are a variety of upcoming events designed for current and prospective jet owners.
AERO Friedrichshafen: The 26th annual AERO Friedrichshafen trade show will take place in Friedrichshafen, Germany, from April 10-13, 2019.
EBACE 2019: EBACE 2019 in Geneva, Switzerland, will bring together industry leaders, experts, and other professionals for an incredible event from May 21-23, 2019.
AeroExpo UK: Attendants of AeroExpo UK will be able to enjoy the best of the global aviation industry at the Wycombe Air Park in Buckinghamshire, England, from June 13-15, 2019.
Next year promises to be a busy one for BizAv. There's plenty to talk about in the industry as a whole, as well as some exciting new deliveries set to hit the market in the next 12 months. True, 2018 was a great year to buy a private jet — but if things continue, 2019 could be even better.
The expert jet brokers at L & L International are here to help you acquire the perfect jet.
Need to sell your jet? We can assist with that, too.
Contact
the private aviation professionals online, at
sales@L-Lint.com
, or at
+1 (305) 754-3313
.