Only a year ago, reports of Gulfstream's G280 were trending on doom and gloom. Speculation was that the company was soon to replace its popular super-midsize business jet with something newer and more sophisticated. Rumor snowballed even further when there were no planned upgrade announcements. Now, Gulfstream has finally stepped forward to squash the rumors in a big way. Not only has the company recommitted to its flagship G280 model, it has also announced a swath of major upgrades that'll keep the G280  in the skies for another decade to come.
Gulfstream breaks the silence
As competitors in the super-midsize business jet market continue to roll out upgrades for their models, Gulfstream has been largely silent regarding the G280. The good news is, the G280 isn't going anywhere anytime soon. Far from shelving the popular model, Gulfstream has been working behind the scenes on much-needed upgrades designed to wow potential buyers as they look for next-gen capabilities.
Not only will new G280 models feature fantastic safety and operational improvements, they will also come with luxury passenger upgrades that heighten the experience of every flight. Rather than roll out updates incrementally, Gulfstream has opted to perfect its next-gen tech and roll out a complete upgrade package all at once.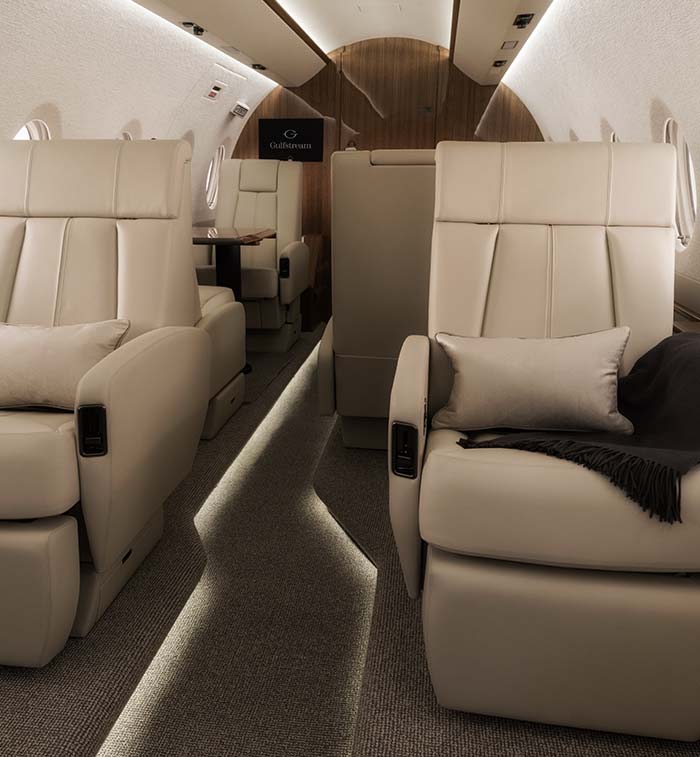 A look at the G280 updates
Gulfstream is pulling out all the stops when it comes to setting up its G280 to compete against next-gen jets. Here's a look at some of the improvements jet buyers can expect to see when new models hit the tarmac:
New surface management system: This major safety upgrade provides aural and visual cues to alert pilots to any unsafe ground and arrival operations.
Vertical weather and predictive wind shear information: This predictive technology helps pilots avoid turbulence and sudden increases or decreases in ground and air speed, as well as other violent air movements.
External LED lighting: LED lighting provides superior visibility and reliability, as well as reduces power consumption, which is especially important for all exterior lights including position lights, anti-collision lights, landing and taxi lights, and more.
De-ionization fresh air system: These systems greatly improve cabin air quality by flushing pathogens and allergens from recirculated cabin air.
360-degree HD camera: Combined with state-of-the-art screens in the cabin, HD cameras offer a panoramic view of the outside world in real time during every flight.
Gulfstream's reinvestment in the G280 provides more than comfort and safety for owners; the brand is making adjustments to the model to ensure that it complies with modern air regulations, specifically CPDLC FANS-E compliance. With these required updates, owners can expect priority treatment by air traffic control and improved communications during flight.
Gulfstream has also confirmed that the G280 meets Stage 5 noise standards. This will broaden the range of airports and departure/landing schedules accessible to owners, including those at noise-sensitive airports.

Flight-tested features from other jets
Many of these upgrades are actually retrofits of tested and proven technologies, including those featured in Gulfstream's G700. Owners of the updated G280 can take advantage of best-in-class G700 technologies at a significantly lower cost. Moreover, current G280 owners can easily enjoy these updates — Gulfstream has made it as simple as possible to take advantage of them, accessible through routine service upgrades
Owners and prospective buyers can expect to see improvements deployed throughout 2021, culminating in the fourth quarter of this year.