Cabin space is one of the most important elements in the private flying experience. What's the sense in owning or flying on a private jet if you can't comfortably sprawl a little? Jet manufacturers are constantly looking for ways to add mere inches to cabin size, and those inches make a big difference in flyer comfort. But what if space wasn't the issue? Many times, it's not. Perception is. It's why manufacturers have started paying more attention to depth of design, instead of just total cabin square footage.
Trick the eye
Once the air is purified and the Wi-Fi is hooked up, passengers on a private flight are only looking for one primary trait in a jet: space. Those people forced to cram into a large commercial plane are frequently confronted with the airline's need to squeeze as many people as possible onto the flight. One of the frills of taking a chartered flight or buying into a fractional flight service is the extra space they allow.
They want legroom. They want headroom. They want to be able to stretch their arms without hitting something. Generation after generation of private jet has struggled to respond to this request. Now, as engineers step aside in their attempts to get more physical space into the cabin, designers are answering the call with new ways of making the cabin feel bigger, even if it's not.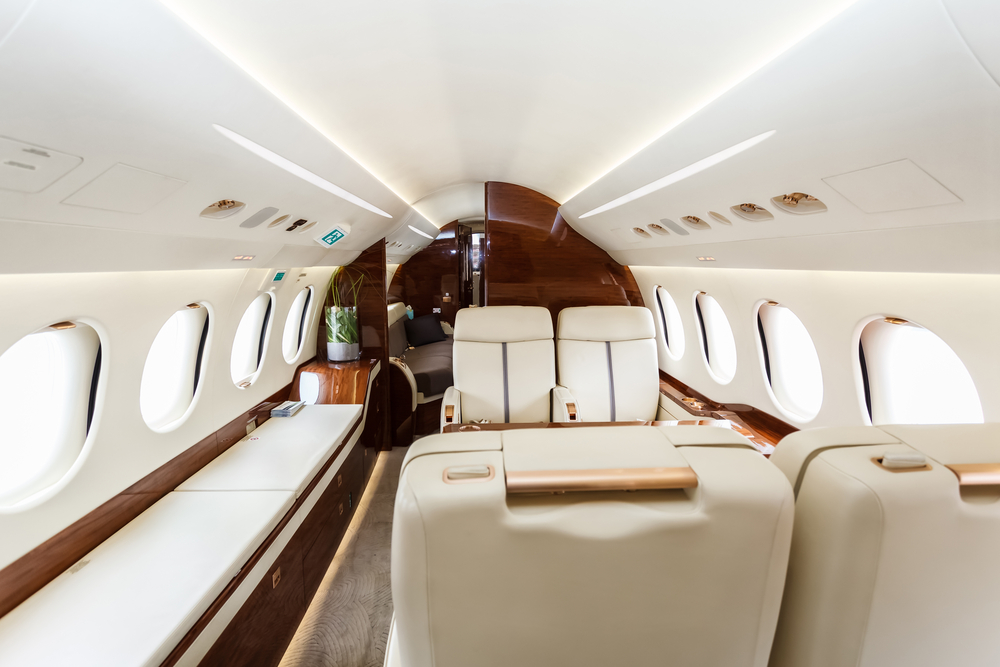 Hack the cabin
There are a variety of ways that aircraft designers are experimenting with methods for expanding the impression of size in the cabin. For example, jet windows need not be confined to traditional portholes. Modern innovations are increasing the size of their windows to allow passengers more viewing space. Another tactic adopted by designers is specific mood lighting. You would be utterly astonished at the impact that some adjustable lighting can have when you want to make your cabin space seem larger.
According to airplane designer Paul Wylde, it is merely that — until now — the design of the cabin has been left to engineers, not designers. According to Wylde, "the single most important criteria of any aircraft design" is weight reduction. For an engineer, limiting the weight of the aircraft comes before anything else. Adding glass for bigger windows means adding weight to the plane, for example. Fortunately, designers are coming up with new ways to make any jet feel expansive.
Size isn't everything
When it comes to rethinking a private jet cabin, the goal is to create more space in new models, using strategies that allow for easy retrofitting to older aircraft. For example, the designers at Gulfstream devoted time to their lighting scheme. Reports Gulfstream's Director of Design Tim O'Hara, "our new lighting system provides such beautiful light. After experiencing the system, many customers commented on how wide it makes the G700 feel."
Other touches, like minimalist decor and increased importance on transparent surfaces all work in symphony to make modern jets feel bigger.
The expert jet brokers at L & L International are here to help you acquire the perfect jet. 
Need to sell your jet? We can assist with that, too.
Contact
the private aviation professionals online, at
sales@L-Lint.com
, or at
+1 (305) 754-3313
.