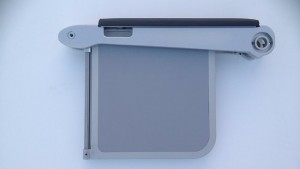 At the Aircraft Interiors Expo in November, Acro Aircraft Seating of the United Kingdom will be showing off its award-winning in-arm tray table. The table seat was recognized as a Crystal Cabin Award Finalist in 2013 and is now certified and flying. This innovative design is one of many from Acro that showcases the company's formula for simplicity and innovative design.
Acro developed the in-arm tray table to address the shortcomings of the typical tray table design: Many tray tables are bulky, take up precious passenger space (which is always in short supply), and break easily. Not only is Acro's in-arm tray table self-cleaning, but it's also lightweight and line-replaceable in less than a minute. Best of all, it improves passenger comfort and visual appeal, as there is no need for the conventional, annoying tray-table closure. Also, the added benefit of cleansing ease improves efficiency for the operator. This innovation is in good company among the certified lightweight, robust, and comfortable economy seating solutions Acro continues to develop for regional, legacy, low-cost, and traditional carriers around the world.
Contact L & L International if you need assistance in purchasing or selling a private jet. You can reach our sales specialists today at sales@L-Lint.com, call us any time at +1.305.754.3313, or visit us online.