Get Long Range and Serious Comfort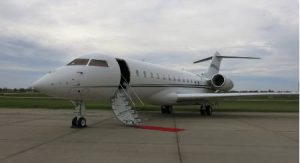 Bombardier's third-generation globetrotter, the Global 6000, wins high marks from Aviation Week's Fred George, who says it's a "fast, comfortable, reliable" aircraft. While other long-range aircraft may fly farther, the Global 6000 wins on passenger comfort with the largest cabin volume of any business jet.
According to Flying magazine, the Global 6000 is a beautiful and capable machine that delivers on the promise of long range and makes shopping for a business jet easy. Author Robert Goyer says, "The range of the machine is part of its name. The Global 6000, for example, has an IFR range of 6,000 nm, which is enough to, well, take you to some spectacular places."
Long-range aircraft like the Global 6000 can fly between business-critical cities such as London and Mumbai. Offering passengers the comforts of home, the Global 6000 can make such trips while also granting a restful night's sleep and a morning shower.
Highlights of the Global 6000
A flight deck gives pilots unprecedented levels of control — based on the award-winning Rockwell Collins Fusion flight deck, one of the most advanced avionics systems in the world — and comfort with leather seats, multi-zone environmental control, and a comfy spot for the relief pilot.
An impressive range of over 6,000 nautical miles is supported by a BMW Rolls-Royce BR710 engine that delivers 15,000 pounds of thrust and unprecedented fuel efficiency.
The sleek and elegant cabin is comfortable on longer hauls and sports three environmental zones, a private stateroom with lavatory and shower, Blu-ray entertainment, high-speed internet, and more.
Bombardier's 15 years and three generations of Global jets that have earned the company a high level of customer loyalty.