As one of the world's largest private and business jet manufacturers, Gulfstream Aerospace is renowned for its family of high-end, high-performance, large- and midsize cabin jets. The jets are not only some of the most technologically advanced in the world but are also equally known for their distinctive interiors and leading cabin comfort, making them sought-after choices for discerning private and business jet customers.
By the numbers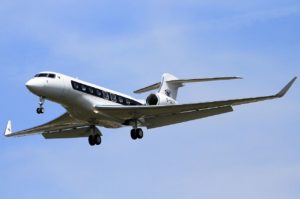 As the jet market has started to recover over the last few years, increased demand for large-cabin private aircraft has positioned Gulfstream in a dominant position at the top of the market. 2017 ended strong for jet manufacturer Gulfstream and parent company General Dynamics. Fourth-quarter Gulfstream orders were up 20% due mostly to large-cabin orders, and "Gulfstream G650/650ER orders were up 78 percent year-over-year, making the fourth quarter the best for G650 family sales in three years and the second best quarter overall."
General Dynamics leaders expect this increase in orders as well as soon-to-be introduced G500 and G600 models to push their company's aerospace group, which also includes Jet Aviation, to as much as $8.4 billion in 2018 revenue. This would be an increase of $220 million over the previous year. However, they expect only about an 18% profit margin as they also plan to increase spending on R&D. Another factor in the anticipated low profit margin is due to General Dynamics decision-makers transitioning their Gulfstream assembly lines as they reduce G550 output and prepare for the upcoming G500 and G600 to enter into service.
Continued excellence
Although the company is no longer producing G450s, the Gulfstream G280 is still a business and private aviation favorite. This super-midsize jet recently reinforced its superior performance reputation with the addition of three new city-pair records:
Lagos, Nigeria, to Cape Verde, Africa — This 1,858-nautical-mile (nm) flight from Murtala Muhammed International Airport to Amílcar Cabral International Airport took 3 hours, 52 minutes, at Mach 0.84.
Cape Verde to San Juan, Puerto Rico — After landing in Cape Verde, pilots flew the G280 to Luis Muñoz Marín International Airport. They completed this 3,011-nm flight at Mach 0.82 in 6 hours, 40 minutes.
Johannesburg to Lagos — The 2,596-nm journey from Lanseria International Airport to Murtala Muhammed International Airport lasted 5 hours, 31 minutes, with an average speed of Mach 0.83.
The G280, which entered into service in November 2012, performs better than any other aircraft in its class and has 60-plus city-pair records to prove it.
Out with the old …
While the G280 is best in class, the G450 has been one of the best-selling and most celebrated business jets in the industry. Its advanced technology, remarkable range, and unmatched passenger comfort make it one of the most popular business jets in history. In January, however, Gulfstream executives announced it had reached the end of the road. The final Gulfstream G450 has been delivered, freeing up additional Gulfstream production space. Although the company will continue to provide support for the G450, it's time to make room for its successor, the G500.
… in with the new

Gulfstream leaders expect the large-cabin G500 will receive certification and enter into service this year. With that expectation, Gulfstream pilots have begun a
12-country G500 tour
to introduce the aircraft to potential customers. The highly anticipated high-performance fly-by-wire jet features advanced technologies and an extra-wide cabin. According to Gulfstream president Mark Burns, the tour will allow customers to explore the aircraft as well as provide the opportunity for Gulfstream insiders to thoroughly test the jet prior to its entry into service.
If you're excited about the new G500 but don't want to wait for its entry into the market, some great deals exist on pre-owned Gulfstream jets. Which member of the Gulfstream family will you choose?