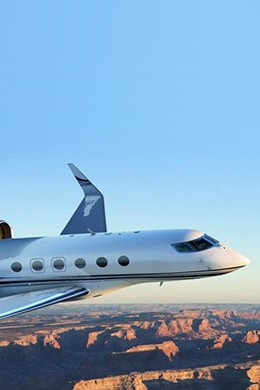 Riding on the tailwind of a highly successful year, Gulfstream's smash-hit G650 is followed by a new aircraft, the Gulfstream 500, or G500. While the G650 made use of remarkable new technologies and continuing development with customer input, Gulfstream designers are proving once again that they can deliver what business flyers really want.
High-flying debut
The G500 made its first cross-country trip at the National Business Aviation Association (NBAA) Convention and Exhibition in Las Vegas in November. The Gulfstream test pilots flew from Savannah, Georgia, into 75-knot headwinds and still accomplished the 1,630 nautical-mile flight in just 4 hours, 36 minutes.
Averaging a speed of Mach 0.85 and an altitude of 45,000 feet, the G500 is proving to be the fastest- and highest-flying aircraft to come from the Gulfstream development team yet.
Practical efficiency
Some facts about the Gulfstream 500:
Maximum range is 5,000 nautical miles
Maximum operating speed (Mach) is 0.925
Maximum cruising altitude is 51,000 feet
The width and height of the aircraft give it the optimal size and shape for speed, maneuverability, and fuel efficiency, while being large enough to carry up to 19 passengers. Fresh air, 100% replenished every two minutes, keeps the cabin refreshing; and the pressurized interior (to no more than 4,850 feet) significantly reduces jet lag.
Comfortable luxury
Of course, the G500 wouldn't be a Gulfstream if it didn't include sublime levels of comfort.
Panoramic windows allow for captivating views and plenty of natural light.
Cabin seats are equipped with built-in storage and touch-screen entertainment.
Exceptional baggage volume includes fold-down shelving that can be individually configured.
Hand-stitched leather, silk, or cashmere carpet and wood veneers complete the look.
Two additions to the Gulfstream 500 flight-test program are now undergoing rigorous testing. Certification is expected to be complete in 2017 and the first deliveries available in 2018.
Contact L & L International if you need assistance in purchasing or selling a private jet. You can reach our sales specialists today at sales@L-Lint.com, call us any time at +1.305.754.3313, or visit us online.