A fervor over trade between the United States and China has been rising since August 2017 when President Donald Trump originally signed a memorandum on China to target what he believes are a variety of unsavory business and trade practices. Now, almost exactly a year later, the president's proposed tariffs are beginning to go into effect alongside China's own retaliatory taxes. A trade war appears imminent, and it could have a major impact on private and business aviation in both countries.
Trade tension and aviation
High on the list of goods China taxed are aircraft — specifically aircraft weighing between 33,000 pounds and 99,000 pounds. A drastic tax hike of 25% on these larger jets includes Boeing's 737: a bestseller to growing governments and individuals in countries seeking to improve their aviation capabilities, like China. Smaller private aircraft would also be subject to the tax, including Gulfstream's G650 private jet.
In a nutshell, tariffs from both sides will likely make it more difficult for U.S. jet manufacturers to find international buyers while also making it more difficult for other countries to expand their aviation programs.
Unless the growing trade tensions between the U.S. and China deescalate, they could possibly shape the future of both the U.S. aviation manufacturing market and China's burgeoning BizAv sector.
Impact on the private jet industry

Tariffs specifically aimed at the U.S. aviation industry are likely to hit manufacturers hard. In fact, U.S. trade data shows "the United States exported $15 billion worth of aircraft to China in 2016," according to the 
Business Insider 
article.
As increased trade prices come down the pike, Boeing and other jet makers may be forced back to the negotiating table when it comes to prices or, worse, have customers suspend or cancel orders in the wake of inflated costs. China's retaliatory tariffs on aviation represent a sizable barrier for international jet sales.
To make matters worse still, peripheral tariffs — particularly those on steel and aluminum — are weighing heavy on aircraft manufacturers. These tariffs could also hamper future orders within the private jet industry. According to an outlook report by Gulfstream, two of its upcoming models scheduled for delivery to China this year — the G500 and the G600 — fall directly into the taxed weight range. In fact, all Gulfstream models except the smallest, the G280, fall within the tariffed weight range.
How China's BizAv sector could suffer
As the cost of jet production rises in the U.S., manufacturers often have no choice but to pass costs on to buyers. And, as China remains one of the largest U.S. jet purchasers, tariffs will likely come full circle.
As China looks within for answers to its growing demand for more jets, few answers make themselves apparent. State-owned aerospace manufacturer Commercial Aircraft Corporation of China (COMAC) offers a C919 aircraft as an alternative to Boeing's 737. However, it offers no real solutions to the demand for business or private jets. This, coupled with a lack of financing and difficulty establishing production supply chains, puts COMAC at a disadvantage from the get-go when it comes to fulfilling China's high demand for aviation solutions at any scale.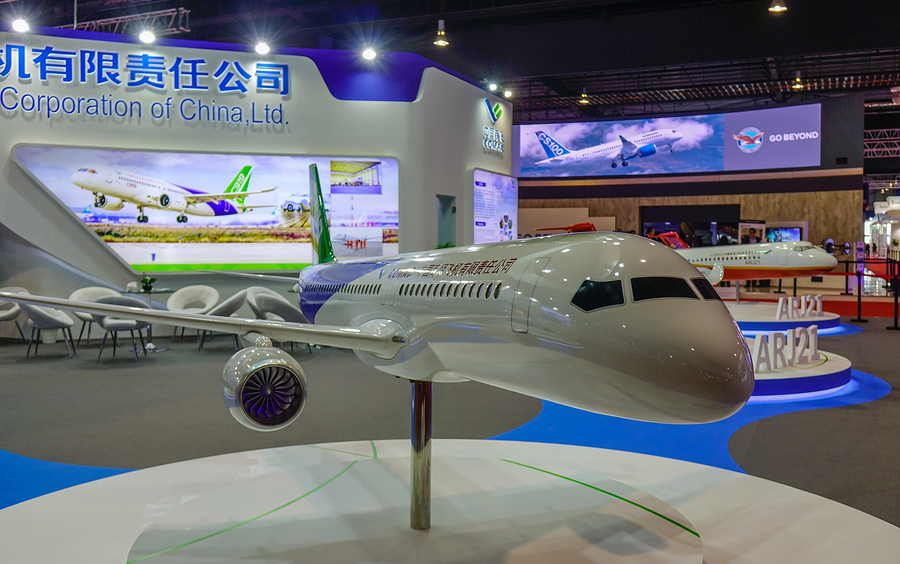 All told, China's inability to produce aircraft at scale domestically means it still relies heavily on U.S. manufacturers. With prices rising over tariff exchanges, China is being forced into a BizAv slowdown.
Where do we go from here?
It appears the simplest way to restore balance to both U.S. aircraft manufacturers and China is to end tariffs on both sides. However, until this becomes reality, aviation sector trade slowdowns seem inevitable. More prospective private jet owners may seek to invest in the used jet market, causing it to tighten further.
The expert jet brokers at L & L International are here to help you acquire the perfect jet.
Need to sell your jet? We can assist with that, too. Contact the private aviation professionals
online
, at
sales@L-Lint.com
, or at
+1 (305) 754-3313
.