Gulfstream G-IV SP Offers Intercontinental Luxury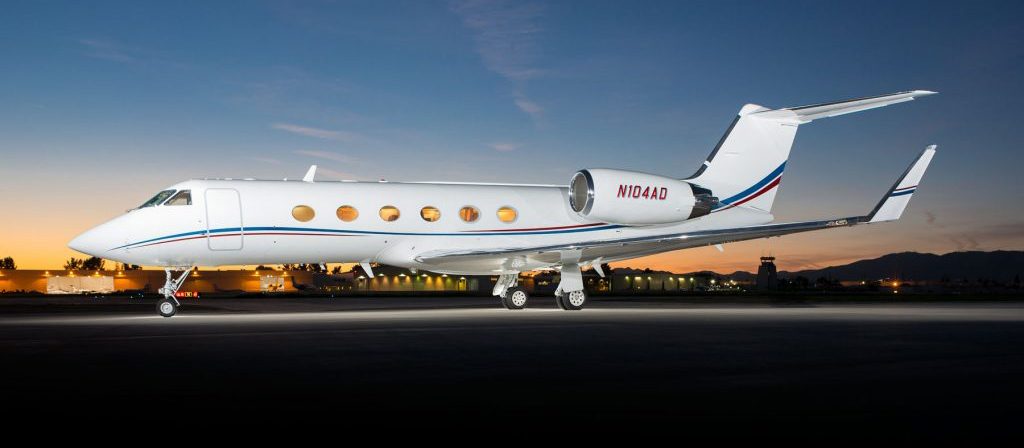 The Gulfstream G-IV SP offers a spacious cabin that can seat 15 over its conference grouping configuration, divan section — which can be used to stretch out on long flights — and club area. All seats are upholstered with burgundy ostrich leather, and the divans feature earth-tone fabrics. Maple wood cabinetry sets off the passenger cabin, which also includes a credenza, a forward galley, and entertainment features such as three 14-inch LCD monitors, a DVD player, and a Bose sound system, which are enhanced by Aircell Gogo wireless connectivity.
Long flights are possible with the Gulfstream G-IV SP: With a cruising range of about 4,200 nautical miles, this mid-sized jet can take you places. The maximum cruising altitude is 45,000 feet and maximum operating speed is Mach 0.88. The twin Rolls Royce TAY MK611-8 engines are well-known for reliability and are covered by Rolls Royce CorporateCare, so maintenance costs are fixed and predictable, and you know you're getting great care.
On the flight deck, the Honeywell SPZ-8400 Proline 4 avionics package can be upgraded to the Primus Elite LCD display with cursor controls and electronic charts.
The Gulfstream G-IV SP is a best-in-class mid-range jet. Schedule an appointment with one of our jet brokers today and let us help you find the perfect jet, at the perfect price, to meet all of your intercontinental needs.