Get Sleek Speed in the Cessna CitationJet 2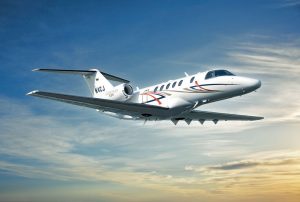 Cessna has long been dominating the business jet market with its CitationJet line. Sporting small to midsize cabins, the Cessna CitationJets are light and fast, and according to a Flying magazine article, they have had huge success. After the original CitationJet debuted in 1989, the line gave way to several iterations — including the CJ2.
Luxury meets practicality
Completed in 2003, the CitationJet 2 (CJ2) is the third iteration of the Citation line, following the CJ and CJ 1. Though it shares many of the same features, the CJ2 includes an upgraded cabin, more power, and higher speeds.
Covered in a top-quality cloud-gray leather, the interior is dressed to the nines. High-gloss rosewood cabinetry with brushed aluminum hardware is paired with premium carpeting for a sleek, sophisticated look.
Larger than the original model, the CJ2 is built to accommodate in style. Seating for seven passengers is afforded in a fire-blocked configuration with club arrangement fold-out tables — four forward, two aft, and one combination.
Less maintenance, more flying
The CJ2 has Williams-Rolls FJ44-2C turbofan engines, making way for
a 3,800-feet-per-minute climb rate and
416-knot max cruise speed.
To put this in perspective, the CJ and the CJ1 each had a max knot speed of 388.
With five feet added to the fuselage, the CJ2 has been a hit in the business jet market. With more space, speed, power, and comforts, having the CJ2 in your business fleet means less maintenance and more flying.