Fly Long Range in Customized Comfort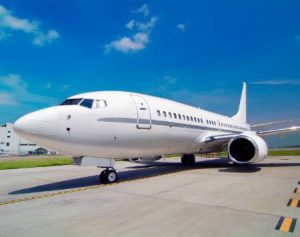 Boeing showed off its luxurious Boeing Business Jet (BBJ) 737-700 at the 2012 Asian Business Aviation Conference and Exhibition in Shanghai, competing with other long-range offerings from Bombardier and Gulfstream. Boeing has produced over 9,000 737 models as of April 2016.
According to AxleGeeks, when compared to the average heavy private jet, the BBJ offers
cruising altitude of 41,000 feet and speeds of 593 mph,
a lighter total weight at 171,000 pounds,
seating room for up to 25 passengers, and
a maximum distance of 6,200 nautical miles.
It's also less expensive than typical heavy business jets.
Setting a record speed flight in 2012, pilots flew the BBJ 737-700 from Los Angeles to Auckland, New Zealand, a 5,658-nautical-mile trip, in 13 hours, 7 minutes. The National Aeronautic Association monitored the record-setting flight, and the plane had 7,800 pounds of fuel remaining when it landed due to seven auxiliary fuel tanks.
Designed as a personal business jet, rather than the typical company jet, Boeing delivers BBJs to new owners without interior furnishings or paint so they can be customized to suit the specific needs and tastes of the buyers.
This means that preowned BBJ 737-700s are often sold and then retrofitted or further customized by new buyers who take advantage of the depreciation. At 807 square feet with seven feet of head room, the spacious cabin can be fully personalized to fit specific needs.
Contact L & L International if you need assistance in purchasing or selling a private jet.

You can reach our sales specialists today at 

sales@L-Lint.com

, or call us any time at

+1 (305) 754-3313

.