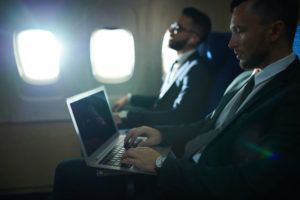 If you need to get from Salt Lake City, UT to Houston, TX by plane, you've got two real options: book a commercial flight or charter a private jet. There are trade-offs for both. But what if there was a middle ground? Something in-between a totally commercial flight and a totally private charter? That's the concept behind flightpooling and its recent rise to prominence. As fears of coronavirus linger and the need for travel ramps back up, more people are seeking to hedge their health in a cost-effective way. Enter: flightpooling.
How does flightpooling work?
It's the same concept as carpooling. A group of people need to reach the same destination. Instead of driving in their separate cars, they all pile into one to save on gas money and reduce carbon emissions. Similarly, flightpooling is a cost-efficient alternative to flying solo. You get a private jet at a fraction of the price. All the passengers save each other from shouldering the full cost of a private flight on their own.
Flightpooling comes with several other benefits as well. In the midst of commercial flight cancellations, a private jet can get you just about anywhere. You'll be in contact with other passengers, but the numbers are far less than what you'd have to put up with at a public airport. COVID-19 presents a unique opportunity for people to afford a private flight for the first time.
Flightpooling is a game changer right now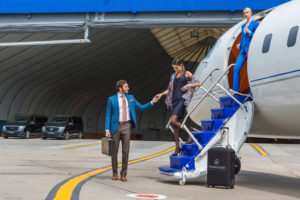 Flightpooling has always been an option. However, it's so niche that circumstances didn't allow the trend to flourish until now. Before the rise of COVID-19, passengers either wanted to go cheap on a commercial flight or have total privacy. But last-minute evacuations coupled with cancelled flights have been the driving forces behind flightpooling. A once-obscure option is now the only option in many instances.
It keeps passengers safe from crowded airports while maintaining a cheap price. Private flights are still more expensive than commercial airlines, but they're cheaper than ever thanks to the current circumstances. Flightpooling is perfect for people who want to limit their exposure to COVID-19 and charter companies that want those empty seats put to good use.
The future of flightpooling

Flightpooling may prove to be a short-lived fad. Passengers will flock to commercial airlines once they reopen, which is likely to happen soon due to government easing of travel restrictions. However, it would be a lucrative business venture if the world saw a second wave of COVID-19. Private charters were late to the game, but now they're
well-equipped to offer flightpooling in the future
.
Global pandemic aside, flightpooling remains the perfect option for passengers who want to avoid long lines at public terminals, but also save a few thousand dollars. Thanks to this method of transportation, private jets can serve more than just business executives and the wealthy. There are new market options for an industry forced to innovate at a rapid clip.