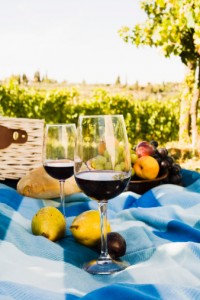 Another year, and another Valentine's Day is almost here. As a jet owner, you have plenty of options for making the holiday memorable for you and your significant other. If you haven't made plans yet, consider a spur-of-the-moment getaway to one of these three destinations — each perfect for a Valentine's weekend retreat.
Napa Valley
A wine lover's paradise, people around the globe flock to this destination in the summer months — but Napa Valley is also perfect for a winter season getaway. February is Cabernet season, and the wine makers and chefs of Napa Valley really get into the season of love. You and your partner can enjoy top-quality wines perfectly paired with tasty bites. Don't miss Calistoga's Castella di Amorosa, a picturesque castle set in a beautiful vineyard whose name fittingly translates to "Castle of Love."
Virgin Islands
If you've been longing to escape winter's cold and lounge on a beach with your favorite person, this is the place to escape on Valentine's Day. This Caribbean paradise enjoys temperatures that stay between 70 and 80 degrees all year round. The breathtaking beaches of St. Thomas, the romantic seclusion of St. John, and the history of St. Croix give you lots of options. Enjoy the convenience of paying for your trip with U.S. dollars when you stay within the U.S. Virgin Islands.
Sedona, Arizona
Not just a haven for heat-seeking snowbirds, Sedona's dramatic landscapes make it one of the most beautiful places in the U.S. The area boasts more than 100 hiking trails and adventure around every corner. A lively shopping scene and world-renowned restaurants make it a special place for your valentine. If you are mystically inclined, you'll be glad to know that spiritual healers flock to the region to take advantage of the spirit-balancing powers of Sedona's vortexes.
Whether you want a secluded beach getaway, a spiritual awakening, or a lazy day drinking wine in the sun, a private jet can get you there quickly and easily. Surprise your special someone with a Valentine's Day weekend to remember.
Contact L & L International if you need assistance in purchasing or selling a private jet. 
You can reach our sales specialists today at sales@L-Lint.com, call us any time at +1.305.754.3313, or visit us online.