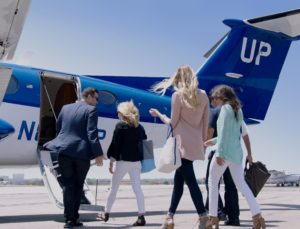 The private charter industry has always been an arms race for market share. Now, regional charter provider Wheels Up has issued a challenge to its closest competition in the form of an acquisition. Wheels Up has purchased Gama Aviation for an undisclosed sum. The deal makes Wheels Up the second-largest private aviation provider in North America, rapidly closing the gap between itself and its prime competitor, NetJets. It's a move many analysts believe to be a power play for market share as the industry continues to consolidate.
Terms of the acquisition
We know little so far about Wheels Up's acquisition of Gama Aviation. However, Wheels Up now has the largest Part 135 operator in the U.S. among their fleet. This is a huge addition to last year when the aviation company acquired Delta Private Jets and Travel Management Company, which are significant Part 135 operators as well.
With the Gama Aviation acquisition, Wheels Up now has more than 300 jets. In 2019, the number-two aviation company beat Flexjet with more than 160,000 flight hours. These impressive figures mean Wheels Up is aggressively ramping up its arms race with NetJets.
Despite the acquisition, Gama Aviation will continue business as usual. Tom Connelly, current CEO of Gama Aviation, will oversee operations from their headquarters in Shelton, Connecticut. As a newly acquired subsidiary, Gama Aviation employees may enjoy opportunities to grow their career within Wheels Up. Keeping staff indicates Wheels Up might not be done making moves.
Major players are teaming up
Gama Aviation by itself is a behemoth in the private aviation industry. They control their own massive fleet while offering aircraft management to other companies. Since Wheels Up's founding in 2013, Gama Aviation has been the sole operator of Wheels Up's King Air 350i, Citation Excel/XLS, and Citation X airplanes. The consolidation makes sense.
With the acquisition of Gama Aviation's versatile aircraft services, Wheels Up has become a powerful force in the private aviation industry. They have everything from the largest fleet to aircraft management. Gama Aviation allows Wheels Up to expand their reach and provide private flights for all types of customers.
Transformative benefits of Gama Aviation

Before the Gama Aviation acquisition, Wheels Up focused primarily on small private jets. This was a lucrative business move; most private flights last only about two hours. With Gama Aviation, Wheels Up has it all. Customers can choose from the budget-friendly King Air or the massive Gulfstream G650. The company now caters to all passenger needs with their expanded fleet.
Wheels Up is coming up fast behind their primary competitor. The company's focus on expanding both market share and capability shows it's not content with being number two. If NetJets doesn't play their cards right, Wheels Up could steal the title of number one private aviation company in the world.