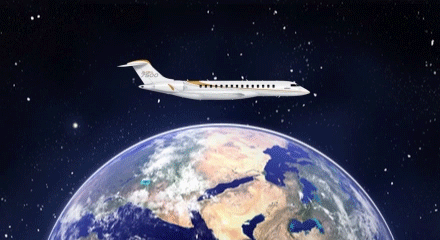 On March 24, 2019, a Bombardier Global 7500 broke the speed record from Los Angeles to New York City, completing the flight in 3 hours and 54 minutes. The Global 7500 left Van Nuys Airport on Sunday at 7:01 a.m. local time and landed at Teterboro Airport at 1:55 p.m. local time, trimming 90 minutes off the average time.
Bombardier pilots Kerry Swanson and Andrew Sibenaler accomplished the feat. The Global 7500 reached a top speed of Mach 0.925, the 7500's Maximum Mach Number (MMO), which it maintained for more than two hours in level flight. The record is pending certification from the National Aeronautic Association.
Meet the Global 7500: Speed, safety, luxury
Available from Canadian aircraft maker Bombardier Inc., the Global 7500 has a roughly $73 million price tag and began deliveries in December 2018. The aircraft won the 2019 Aviation Week Grand Laureate Award.
The aircraft that set the record — registered as C-FXAI — is production-level and serves as a demonstration aircraft.
"The Global 7500 aircraft is simply the best business jet on the market today," said Bombardier Business Aircraft President David Coleal. "This latest speed record demonstrates once again that the Global 7500 jet is the undisputed leader in business aviation."
The Global 7500 is the largest and longest-range private aircraft. It features four living spaces and a dedicated crew suite and kitchen. The interior is customizable with countless floor plan and furnishing options. Possible spaces include a club suite, conference suite (with a six-person table), entertainment suite, private suite, and en suite bath. The aircraft holds a maximum of 19 passengers.
The aircraft also boasts Bombardier's signature Nuage seat, featuring deep recline, a floating base, and a tilting headrest. A new feature is the nice Touch cabin management system, which controls lighting, media, communications, and more.
Crew members also enjoy luxury aboard the Global 7500. The aircraft features the largest cockpit in the industry and a permanent side-facing jump seat. It's equipped with Bombardier's proven fly-by-wire system. The dedicated crew suite offers maximum comfort on long-range flights.
Mounting records for Bombardier
The Global 7500 unseats the record set by General Dynamic Corp.'s Gulfstream G650 in November 2014. Until the Global 7500's debut, the Gulfstream G650 was the uncontested standard in ultra-long-range business aircraft since its launch in December 2012.
The typical cruise speed for the Global 7500 is 0.85 mach. Its maximum range is listed as 7,700 nautical miles. A commercial flight from Los Angeles to New York City takes an average five and a half hours to complete.
The expert jet brokers at L & L International are here to help you acquire the perfect jet.
Need to sell your jet? We can assist with that, too.
Contact
the private aviation professionals online, at
sales@L-Lint.com
, or at
+1 (305) 754-3313
.