[et_pb_section admin_label="Section" fullwidth="on" specialty="off" background_image="https://l-lint.com/wp-content/uploads/2016/03/slider_1_1.jpg" transparent_background="off" allow_player_pause="off" inner_shadow="off" parallax="off" parallax_method="off" padding_mobile="off" make_fullwidth="off" use_custom_width="off" width_unit="on" make_equal="off" use_custom_gutter="off"][et_pb_fullwidth_header admin_label="Fullwidth Header" title="CORPORATE JET INSIDER" background_layout="light" text_orientation="center" header_fullscreen="off" header_scroll_down="off" background_url="https://l-lint.com/wp-content/uploads/2016/03/slider_1_1.jpg" background_overlay_color="rgba(255,255,255,0.82)" parallax="off" parallax_method="off" content_orientation="center" image_orientation="center" custom_button_one="off" button_one_letter_spacing="0″ button_one_use_icon="default" button_one_icon_placement="right" button_one_on_hover="on" button_one_letter_spacing_hover="0″ custom_button_two="off" button_two_letter_spacing="0″ button_two_use_icon="default" button_two_icon_placement="right" button_two_on_hover="on" button_two_letter_spacing_hover="0″] [/et_pb_fullwidth_header][/et_pb_section][et_pb_section admin_label="section"][et_pb_row admin_label="row"][et_pb_column type="3_4″][et_pb_post_title admin_label="Post Title" title="on" meta="on" author="off" date="on" categories="on" comments="off" featured_image="off" featured_placement="below" parallax_effect="on" parallax_method="on" text_orientation="left" text_color="dark" text_background="off" text_bg_color="rgba(255,255,255,0.9)" module_bg_color="rgba(255,255,255,0)" title_all_caps="off" use_border_color="off" border_color="#ffffff" border_style="solid"] [/et_pb_post_title][et_pb_text admin_label="Text" background_layout="light" text_orientation="left" use_border_color="off" border_color="#ffffff" border_style="solid"]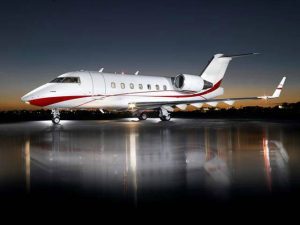 Bombardier started delivering the Challenger 604 in 1996, according to an AOPA article. The company's aerospace engineers created a fleet of over 350 aircraft over the next decade, according to a Business Jet Traveler article. True to the comfort and luxury inherent in the 600 series, the Challenger 604 is respected for its big cabin, considered the wide body of business jets, and for bringing a new level of spaciousness to the market.
The Challenger 604 boasts ample interior volume and generous stand-up height. According to the AOPA article, this model is ideal for long flights due to its opulent interior, which includes:
Extra-wide, reclining executive seats
Entertainment systems
Oversized galley
Deluxe lavatory
Low interior noise levels
The cabin comfortably seats 10-12 passengers and has a maximum capacity of 19. The interior space can be configured as a double club or forward club/half club and divan arrangement for the ultimate in flexibility. Altering the seating styles with couches and other furniture changes is relatively simple, which allows for extraordinary refurbishment options.
The Challenger 604 has two General Electric CF34-3B engines, each rated at 8,729 pounds of thrust, according to AOPA. The jet is capable of long legs with few stops; specifically, with eight passengers, it can fly 3,850 miles at Mach 0.74.
The aircraft holds 20,000 pounds of fuel and can comfortably transport passengers across the continental U.S. or on transatlantic crossings. It sleeps up to eight people very comfortably.
Contact L & L International if you need assistance in purchasing or selling a private jet.
You can reach our sales specialists today at 
sales@L-Lint.com
, call us any time at +1.305.754.3313, or 
visit us online
.
[/et_pb_text][/et_pb_column][et_pb_column type="1_4″][et_pb_sidebar admin_label="Sidebar" orientation="right" area="sidebar-1″ background_layout="light" remove_border="off"] [/et_pb_sidebar][/et_pb_column][/et_pb_row][/et_pb_section]