[et_pb_section bb_built="1″ fullwidth="on" specialty="off" background_image="https://l-lint.com/wp-content/uploads/2016/03/slider_1_1.jpg" transparent_background="off" allow_player_pause="off" inner_shadow="off" parallax="off" parallax_method="off" padding_mobile="off" make_fullwidth="off" use_custom_width="off" width_unit="on" make_equal="off" use_custom_gutter="off" custom_padding_tablet="50px|0|50px|0″ custom_padding_last_edited="on|desktop"][et_pb_fullwidth_header title="CORPORATE JET INSIDER" background_layout="light" text_orientation="center" header_fullscreen="off" header_scroll_down="off" background_url="https://l-lint.com/wp-content/uploads/2016/03/slider_1_1.jpg" background_overlay_color="rgba(255,255,255,0.82)" parallax="off" parallax_method="off" content_orientation="center" image_orientation="center" custom_button_one="off" button_one_letter_spacing="0″ button_one_use_icon="default" button_one_icon_placement="right" button_one_on_hover="on" button_one_letter_spacing_hover="0″ custom_button_two="off" button_two_letter_spacing="0″ button_two_use_icon="default" button_two_icon_placement="right" button_two_on_hover="on" button_two_letter_spacing_hover="0″ background_image="https://l-lint.com/wp-content/uploads/2016/03/slider_1_1.jpg" /][/et_pb_section][et_pb_section bb_built="1″ admin_label="section"][et_pb_row admin_label="row" background_position="top_left" background_repeat="repeat" background_size="initial"][et_pb_column type="3_4″][et_pb_post_title title="on" meta="on" author="off" date="on" categories="on" comments="off" featured_image="off" featured_placement="below" parallax_effect="on" parallax_method="on" text_orientation="left" text_color="dark" text_background="off" text_bg_color="rgba(255,255,255,0.9)" module_bg_color="rgba(255,255,255,0)" title_all_caps="off" use_border_color="off" border_color="#ffffff" border_style="solid" background_color="rgba(255,255,255,0)" parallax="on" /][et_pb_text background_layout="light" _builder_version="3.0.85″]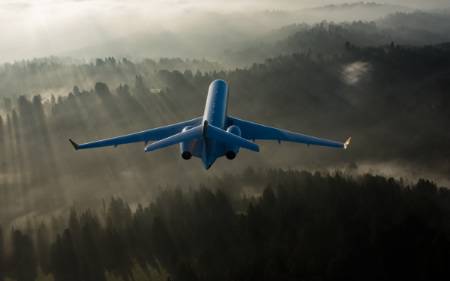 A stalwart in the industry for more than 50 years, Bombardier Business Aircraft has one of the most comprehensive lines of jets in the industry. Its three aircraft families — Learjet, Challenger, and Global — can address the needs of customers as their travel requirements change along with their businesses. With a good start to the year and the anticipated delivery of the Global 7000 following shortly, 2018 looks to be an exciting year for Bombardier.
A good start
If the rest of 2018 is like the first quarter, business aviation insiders can expect Bombardier to have a banner year. First-quarter revenues reached $1.11 billion, a 9% increase year-over-year, and deliveries were up two jets at 31. Bombardier projects 135 deliveries in 2018, and the first deliveries of its Global 7000, sold out through 2021, will add to its already-large portfolio. The timing couldn't be better as analysts expect the business aviation industry to continue its long-awaited turnaround.
The Bombardier family
The Challenger 350 was among the best-selling business jets in the first quarter of 2018. In addition, it was the top-selling business jet in 2017, according to General Aviation Manufacturers Association data, with 56 deliveries. In the first quarter of this year, Bombardier delivered 12 of the super-midsize jets. The Challenger 350's popularity is a testament to the exceptional flight experience its roomy cabin, advanced cabin management system, in-flight luggage compartment access, as well as excellent connectivity and communications solutions provide. The aircraft has a range of 3,200 nautical miles, is NextGen-ready, and has the lowest operating costs in its class.
Bombardier's flagship Global 5000 and 6000 were also top sellers with 10 deliveries combined in the first quarter of 2018. The Global series of large-cabin ultra-long-range jets is known for its comfort and style while providing the latest in business productivity tools and technologies. The Global 5000 seats up to 16 passengers and has a 5,200-nautical-mile range; the Global 6000 seats up to 17 and has a range of 6,000 nautical miles.
Global 7000: The next great business jet
The Global Series will soon have another aircraft in its lineup: the
Global 7000
. The 7000 made its debut flight in November 2016, and the five flight test aircraft in the fleet have since accrued more than 1,800 flight hours.
Certification
is expected later this year with the first delivery shortly thereafter, making the 7000
Bombardier's flagship
business jet. It has a range of 7,400 nautical miles and can see speeds up to Mach 0.925; however, as its flight tests have shown, it has the capability to hit the 7,700-nautical-mile mark at Mach 0.85, positioning it to claim the long-range business jet title and opening up "city pairs such as New York to Hong Kong and Singapore to San Francisco," according to the BJT article.
Whether you're looking to buy a quality preowned Challenger or are in the market for state-of-the-art technology and comfort in the new Global 7000, you shouldn't undertake the process of finding and financing a new aircraft on your own. Get help from an expert to find the best option for your needs.
[/et_pb_text][/et_pb_column][et_pb_column type="1_4″][et_pb_sidebar orientation="right" area="sidebar-1″ background_layout="light" remove_border="off" show_border="on" /][/et_pb_column][/et_pb_row][/et_pb_section]