[et_pb_section admin_label="Section" fullwidth="on" specialty="off" background_image="https://l-lint.com/wp-content/uploads/2016/03/slider_1_1.jpg" transparent_background="off" allow_player_pause="off" inner_shadow="off" parallax="off" parallax_method="off" padding_mobile="off" make_fullwidth="off" use_custom_width="off" width_unit="on" make_equal="off" use_custom_gutter="off"][et_pb_fullwidth_header admin_label="Fullwidth Header" title="CORPORATE JET INSIDER" background_layout="light" text_orientation="center" header_fullscreen="off" header_scroll_down="off" background_url="https://l-lint.com/wp-content/uploads/2016/03/slider_1_1.jpg" background_overlay_color="rgba(255,255,255,0.82)" parallax="off" parallax_method="off" content_orientation="center" image_orientation="center" custom_button_one="off" button_one_letter_spacing="0″ button_one_use_icon="default" button_one_icon_placement="right" button_one_on_hover="on" button_one_letter_spacing_hover="0″ custom_button_two="off" button_two_letter_spacing="0″ button_two_use_icon="default" button_two_icon_placement="right" button_two_on_hover="on" button_two_letter_spacing_hover="0″] [/et_pb_fullwidth_header][/et_pb_section][et_pb_section admin_label="section"][et_pb_row admin_label="row"][et_pb_column type="3_4″][et_pb_post_title admin_label="Post Title" title="on" meta="on" author="off" date="on" categories="on" comments="off" featured_image="off" featured_placement="below" parallax_effect="on" parallax_method="on" text_orientation="left" text_color="dark" text_background="off" text_bg_color="rgba(255,255,255,0.9)" module_bg_color="rgba(255,255,255,0)" title_all_caps="off" use_border_color="off" border_color="#ffffff" border_style="solid"] [/et_pb_post_title][et_pb_text admin_label="Text" background_layout="light" text_orientation="left" use_border_color="off" border_color="#ffffff" border_style="solid"]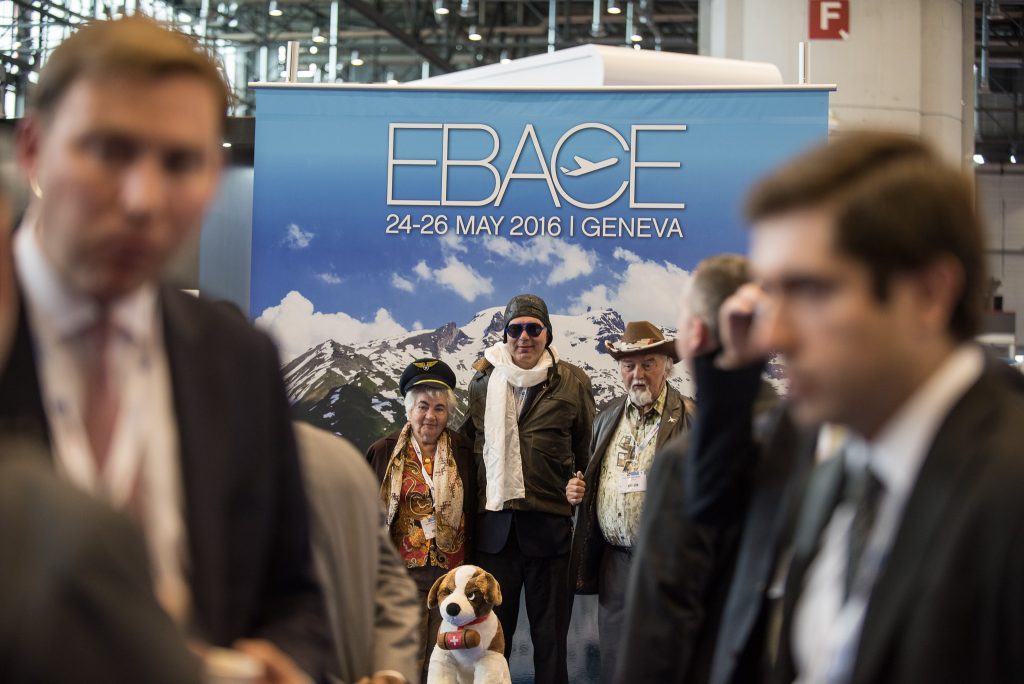 The European Business Aviation Convention and Exhibition is the premier European event for business aviation experts and fans. This year's event, held May 24-26, 2016, in Geneva, was no exception. Presenters offered more than 450 exhibitions, representing over 40 countries, and attendees came from more than 100 countries around the world.
Features of this year's event included a discussion panel on business aviation skills and careers with about 40 students and recent graduates from Hamburg University and the University of Applied Sciences, among others. Panelists from Europe and the U.S., including Christian Weiss of the Hay Group and Margriet Bredewold of Co-Guard gmbH, discussed diversity in the business aviation sector and answered students' questions about green technology, aircraft management, and flying.
This year's draw was the biggest airplane yet to be parked outside the Palexpo convention center — the BBJ 787-8, Boeing's latest large-cabin aircraft. Highlights of the airplane include
seating for up to 40 passengers,
a 6,500-foot cabin with superior soundproofing,
spacious dining and lounge areas,
55-inch flat screen monitors, and
12-plus berthable seats.
The cabin is decorated in neutral earth tones and highlighted with metal accents and recessed lighting.
With the next big National Business Aviation Association event coming up in November, Gulfstream executives had big announcements to share: The first scheduled flight of the new G600 business jet will take place in the fourth quarter of 2016. The new schedule advances the first flight from the previously scheduled early 2017 and has members of the business aircraft jet industry all ears. The G600 is a shorter-range sister to the G500, which piled up 1,000 flight hours with test pilots reporting speeds up to Mach 0.995. The G600 is set for certification in 2018 with entry into service in 2019.
Check out the 2012 Boeing BBJ in our inventory.
Contact L & L International if you need assistance in purchasing or selling a private jet.
You can reach our sales specialists today at sales@L-Lint.com, or call us any time at +1 (305) 754-3313.
[/et_pb_text][/et_pb_column][et_pb_column type="1_4″][et_pb_sidebar admin_label="Sidebar" orientation="right" area="sidebar-1″ background_layout="light" remove_border="off"] [/et_pb_sidebar][/et_pb_column][/et_pb_row][/et_pb_section]