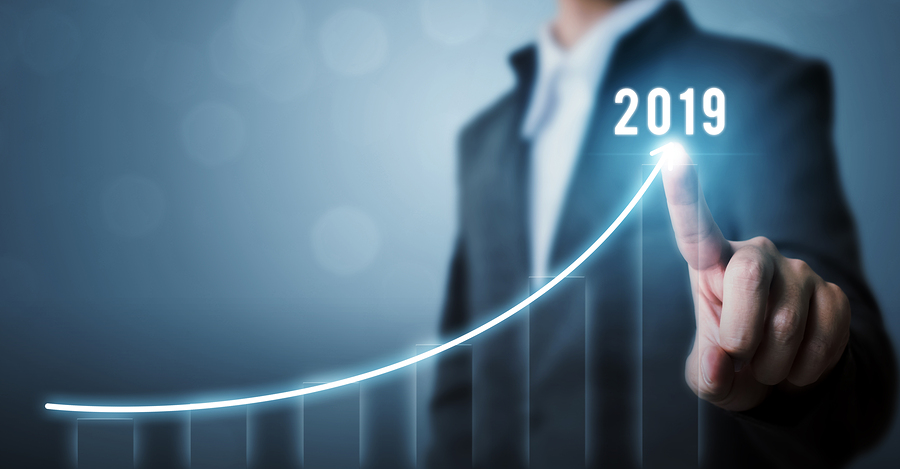 2018 was a rocky year for investments across different asset classes. Real estate coasted to highs across the nation, while the stock market rode a roller coaster through the end of the year. One type of investment soared high and stayed high, however: private jets. Business aviation saw big updrafts last year and will continue to ride these tailwinds deep into 2019.
According to the Jet Support Services Inc. (JSSI) Business Aviation Index, flight hours in the BizAv sector have shown a sustainable increase over the past year. Worldwide flight activity in 2018 was up 4.9% for the year; 4.7% in the fourth quarter. The JSSI Index — which tracks more than 2,000 business jets, turboprops, and helicopters across nine industries — reported an increase of 5.4% in chartered business flights.
Most impressive about the increase in privately chartered hours is the global growth of the industry. North America saw only a modest increase in flight hours (2.8%), while South America (8.1%), Europe (8.8%), and Africa (17.4%) all saw major upswings in private aviation. The global market is thriving.
The market continues to grow
In the United States, there's reason to believe BizAv will continue steadily on its positive trajectory in 2019. In 2008, about 1,300 new private jets were delivered; however, the industry saw less than half that number in the years following the Great Recession. The industry hasn't really recovered to previous levels since.
However, with some of the biggest aviation manufacturers located in North America, the number of new annual orders is starting to trend up. Demand from Asia and Europe, alongside domestic orders, is bringing the BizAv industry in America back up to par. And with laws to help owners write off depreciating jet costs as well as better supply chains, it's getting easier to make, sell, and afford aircraft.
Today, the worldwide fleet consists of about 22,000 private jets — and counting. This number should rise thanks to innovations culminating in jets such as the Citation Longitude from Cessna and the Global 7500 from Bombardier, both slated for delivery later in 2019.
Together, better manufacturing, increased global demand, and innovative new jets are all in a position to push continued growth in the BizAv market.
Depreciation is a headwind
There are many tailwinds working in favor of BizAv right now. However, the industry isn't without headwinds. Specifically, price depreciation is a glaring concern that could cause growth to taper off.

Since the Great Recession, aircraft values have depreciated rapidly during ownership, sometimes
dipping below 50% of their purchase value
. This makes private jets less of a value for owners interested in reselling. And while the pre-owned jet market has thrived in the past decade, the time has come for a new cycle of jets to enter the market. Unfortunately, this means owners will have to buy new before others can buy pre-owned. More buyers waiting to acquire a jet secondhand means fewer jets actually entering the market.
If innovation and favorable buying conditions are enough to spark the intrigue of prospective jet buyers, the private aviation market could see continued growth in 2019. If depreciation continues to be severe, many buyers may decide it's not worth the investment. Time will tell!
The expert jet brokers at L & L International are here to help you acquire the perfect jet.
Need to sell your jet? We can assist with that, too.
Contact
the private aviation professionals online, at
sales@L-Lint.com
, or at
+1 (305) 754-3313
.