Bombardier's Challenger 3500 is an upgrade of its original 350 model, and it's designed to compete with some of the hottest new private aircraft on the market. With plenty of creature comforts, and state-of-the-art avionics, it's a force to be reckoned with in the midsized jet class. With its updates, upgrades, and innovations this jet is a dark horse favorite to overtake the midsize market.

Keeping current with the competition
Bombardier's Challenger 350 made its debut in 2014. Since then, Bombardier has delivered more than 350 of these aircraft to customers around the world. Its equipped price hovers around $26.7 million. But over the last decade, new midsized jets have quickly taken up market share by offering new tech and innovation at competitive price points. The Challenger 3500 seeks to meet them on a competitive front.
The Challenger 3500 is built to compete against current market leaders, such as the Embraer Praetor 500/600 series, the Citation Longitude, and Gulfstream's G280. Each of these jets is priced just below the $30 million threshold, which is leveling the playing field and forcing airframe makers to compete on innovation.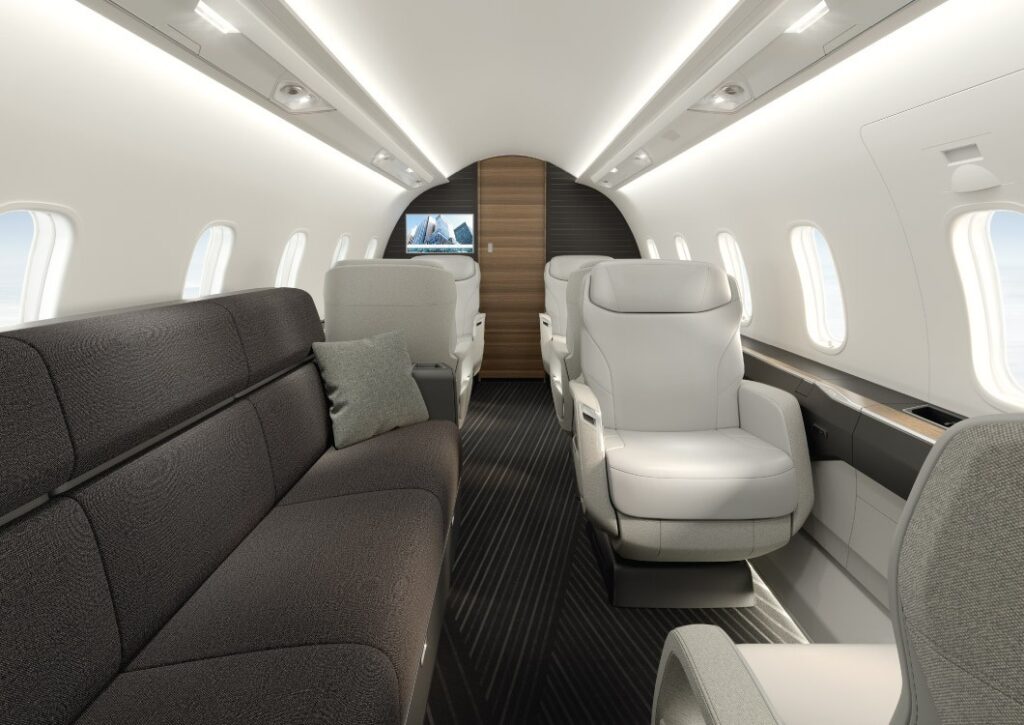 An expected upgrade with a wow factor
Industry analysts have predicted an upgrade to the Challenger 350 for several years, but Bombardier's Challenger 3500 has exceeded their expectations. It boasts a myriad of novel features that instantly propel it into the thick of the competitive midsized market. Several features stand out:
Comfort. Zero-gravity seating is the crown jewel of Bombardier's interior upgrades. Its patented Nuage seats tilt back to reduce pressure on the lower back, and passengers can tuck their feet under their center of gravity for a natural, relaxed position.
Entertainment. While sitting comfortably, passengers can access the aircraft's complete entertainment system with voice commands linked to lights, temperature controls, and the best-in-class 24-inch 4K video display.
Stability. The Challenger 3500's redesigned wings deliver a smoother ride through all phases of flight.
Avionics. Powered by GE Aviation's Smart Link Plus avionics platform, the Challenger 3500 boasts a state-of-the-art cockpit that includes four display screens, synthetic vision, and a dual flight management system with localizer performance with vertical guidance (LPV) and required navigation performance (RNP) approach.
Bombardier has also provided the Challenger 3500 with several COVID-19-specific features, including easy-to-clean haptic controls, an advanced clean air delivery system, and antimicrobial furnishing materials.

An instant contender
The Challenger 350 is a beloved midsized model, which leaves big shoes for the 3500 to fill. And while it's sure to attract interest from those in the market for a midsized jet, Bombardier has its eyes on a much larger market. According to business aviation analyst Rollie Vincent, "It makes a great fleet aircraft for charter and fractional: Just fill up the tanks and off you go."
Bombardier's Challenger 3500 is scheduled to enter service in the second half of 2022 — just in time to satisfy a growing demand for midsized charter jets. With innovations for both comfort and efficiency, the 3500 is a redesign meant to be a competition killer and a stalwart for the future.