[et_pb_section admin_label="Section" fullwidth="on" specialty="off" background_image="https://l-lint.com/wp-content/uploads/2016/03/slider_1_1.jpg" transparent_background="off" allow_player_pause="off" inner_shadow="off" parallax="off" parallax_method="off" padding_mobile="off" make_fullwidth="off" use_custom_width="off" width_unit="on" make_equal="off" use_custom_gutter="off"][et_pb_fullwidth_header admin_label="Fullwidth Header" title="CORPORATE JET INSIDER" background_layout="light" text_orientation="center" header_fullscreen="off" header_scroll_down="off" background_url="https://l-lint.com/wp-content/uploads/2016/03/slider_1_1.jpg" background_overlay_color="rgba(255,255,255,0.82)" parallax="off" parallax_method="off" content_orientation="center" image_orientation="center" custom_button_one="off" button_one_letter_spacing="0″ button_one_use_icon="default" button_one_icon_placement="right" button_one_on_hover="on" button_one_letter_spacing_hover="0″ custom_button_two="off" button_two_letter_spacing="0″ button_two_use_icon="default" button_two_icon_placement="right" button_two_on_hover="on" button_two_letter_spacing_hover="0″] [/et_pb_fullwidth_header][/et_pb_section][et_pb_section admin_label="section"][et_pb_row admin_label="row"][et_pb_column type="3_4″][et_pb_post_title admin_label="Post Title" title="on" meta="on" author="off" date="on" categories="on" comments="off" featured_image="off" featured_placement="below" parallax_effect="on" parallax_method="on" text_orientation="left" text_color="dark" text_background="off" text_bg_color="rgba(255,255,255,0.9)" module_bg_color="rgba(255,255,255,0)" title_all_caps="off" use_border_color="off" border_color="#ffffff" border_style="solid"] [/et_pb_post_title][et_pb_text admin_label="Text" background_layout="light" text_orientation="left" use_border_color="off" border_color="#ffffff" border_style="solid"]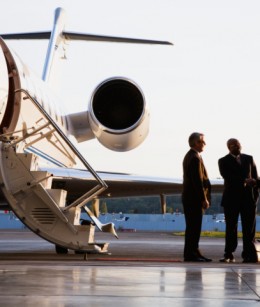 The overall jet market is still down after the recession, but with the economy slowly and steadily picking up, purchasing a private jet now could be the smart move your business needs.
1. How much will it cost?
The cost of a private jet varies considerably based on the type of jet, whether it is new or used, and the features it boasts. Of course, the initial purchase price is just the start and you must factor maintenance, storage (hangarage), pilot and crew, fuel, insurance, and more into your budget to get the full picture of what it will cost to own and operate a private jet.
2. Should you buy new or used?
In this regard, buying an aircraft is much like buying a new car. Preowned aircraft are normally purchased on an "as-is" basis, meaning the buyer accepts the aircraft in its current condition. The depreciation of the aircraft is factored into the price, and the value is often quite good when buying a used aircraft.
Similar to buying a used car, you will want to have the aircraft's maintenance documents and log books thoroughly reviewed by someone experienced in aircraft ownership.
3. What size do you need?
Determining the aircraft size is critical to your private jet purchase.
Take into account the typical number of people who will be traveling, but consider clients and their partners, too.
Next, take a look at how far your plane will be traveling; the distance will affect the size of plane as well.
Last, consider how often you plan to travel with your private jet. The number of flights will help you determine your operating costs.
4. How to crew your aircraft?
Choosing how to crew your aircraft is another consideration when it comes to purchasing a private jet. This includes maintenance and flight crew — all the people and expertise needed to keep your jet in perfect condition and you flying in perfect safety and comfort. When you purchase a private jet, look into the options available for a management company that can maintain and oversee your aircraft, as well as hire a pilot and flight crew.
5. Do it yourself or find a partner?
Unfortunately, buying a private jet isn't as easy as buying a car — there are many FAA regulations and tax-related legalities that must be considered. Having your own legal advisor will make the process easier, but working with an experienced partner can make a big difference in how much you'll spend and what type of aircraft you purchase. A partner can also help you navigate the options for a trustworthy and affordable management service provider.
Contact L & L International if you need assistance in purchasing or selling a private jet. You can reach our sales specialists today at sales@L-Lint.com, call us any time at +1.305.754.3313, or visit us online.
[/et_pb_text][/et_pb_column][et_pb_column type="1_4″][et_pb_sidebar admin_label="Sidebar" orientation="right" area="sidebar-1″ background_layout="light" remove_border="off"] [/et_pb_sidebar][/et_pb_column][/et_pb_row][/et_pb_section]