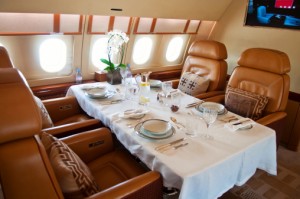 A buyer's first impression of any item for sale — be it a house, a car, or an aircraft — is based largely on its appearance. A renovated interior and cleaned or repainted exterior can get prospective buyers excited about your aircraft. It's also a great way to improve your aircraft's value, just as remodeling the kitchen or installing new flooring can add value to a home.
But similarly to home improvements, some enhancements affect an aircraft's value more than others. The key to making cost-effective and value-adding upgrades is to know which ones will make your aircraft more desirable to prospective buyers. These four refurbishments are most likely to boost your aircraft's value and wow buyers.
1. Paint
A new exterior paint job can wow a potential buyer, as long as it's is done well. Old paint should be removed properly, the aircraft should not be over-sprayed and over-buffed, and the paint used should be high-quality and  a neutral or classic color. An aircraft that's repainted every five to seven years will be an asset to current owners as well as future buyers.
2. Aesthetic improvements
Improving your aircraft's aesthetics means modernizing interior features. Interior upgrades can be one of your biggest aircraft maintenance expenses, but they're essential to preserving and even improving the value of your aircraft. Like painting, interior upgrades should be done every five to seven years.
Interior investments in updated seats, new carpet, refinished cabinetry, and refurbished hardware can go a long way toward differentiating your aircraft from others on the market. Avoid over-customizing your aircraft's interior or choosing upgrades based solely on your unique personal tastes. Instead, opt for classic interior upgrades that have universal appeal.
3. Technology updates
The addition or upgrade of Wi-Fi technology, LED lighting, and state-of-the art entertainment systems make a big impact on buyers in the market for a quality pre-owned jet. Out-of-date technology gives the impression that the aircraft is outdated as well.
4. Detailing
Though it may seem obvious, cleanliness makes a huge difference in perceived value of a pre-owned plane. Investing in professional detailing, ideally on a regular schedule, improves the flight experience for current and future passengers and helps prevent wear and tear on your interior investments.
Posh, glitzy interiors may attract attention, but investments in such upgrades won't give you the most bang for your buck. Sensible, cost-effective refurbishments will make your aircraft's interior more attractive and comfortable and will help to make your plane more marketable when you're ready to sell.
Contact L & L International if you need assistance in purchasing or selling a private jet. You can reach our sales specialists today at sales@L-Lint.com, call us any time at +1.305.754.3313, or visit us online.