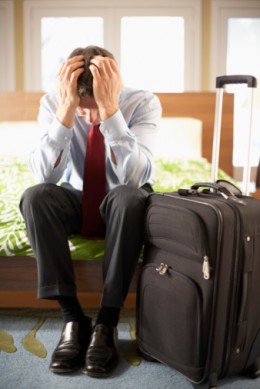 Sending employees abroad for a quick trip or assignment is an essential part of doing everyday business for many organizations, so much so that frequent business travel has become essential to thriving in a global economy. If you, or your employees, travel a lot on behalf of your business — both in the U.S. and abroad — it's your legal responsibility to ensure their health and safety.
Many countries around the world have comprehensive legislation protecting business travelers, and Duty of Care legislation has become an increasingly hot topic in the corporate travel world. It holds companies liable for protecting the health and safety of their employees who need to travel for business purposes. Failure to comply comes with a range of legal and financial consequences. In Germany, for example, the liability for health-related costs extends beyond the traveling employee to family members who may be visiting the business traveler.
What's the concern?
In some situations, the very act of traveling can be risky for an individual's health. The CDC recently exposed how traveling can be an expensive health risk, and brought some scary statistics to light:
For every 100,000 travelers visiting a developing country, 50,000 will develop a health problem abroad.
A course of hospitalized treatment for malaria can be as high as $25,000 or more.
The cost of an emergency medical evacuation can be as high as $250,000.
How frequent business travel affects your health
Research conducted by Columbia University's Mailman School of Public Health found that people who travel often for business are less likely to be healthy than those who travel infrequently. Using the health records of 13,000 people from corporate wellness programs, researchers discovered that those on the road at least two weeks every month had:
Higher body mass index — a key indicator of weight issues
Higher blood pressure
Less 'good' cholesterol
In addition, the frequent travelers consistently rated their own health as 'poor' or 'fair' three times more often than light travelers did, showing their perception of health was also lower than average.
What you can do
When you and/or your employees travel often, having the right resources to stay safe and healthy is key. Here's what you can do:
Get educated on preventative health care while on the road. This means not only knowing how to find quality health care facilities, but also how to implement healthy habits of exercise, sleep, and clean food and water on the road.
Get the right vaccinations well ahead of the trip, and ensure that you and your employees have access to the medications needed to prevent health emergencies while traveling.
Put well-coordinated emergency procedures in place to ensure that every employee understands what to do in a health emergency. This should include having business travel insurance in place to protect your employees should a travel emergency arise.
As any business owner knows, the safety of you and your employees should always come first. Taking the necessary steps and providing the right education to traveling employees is essential. Being proactive about health and knowing what to do in an emergency can keep your company clear of legal and financial liability as well as ensuring that your employees remain on the job and healthy.
Contact L & L International if you need assistance in purchasing or selling a private jet. 
You can reach our sales specialists today at sales@L-Lint.com, call us any time at +1.305.754.3313, or visit us online.