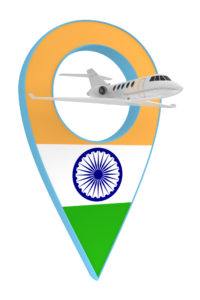 India's economy has rapidly risen to a stature as one of the most respected in the world within the past decade. One of the key hubs for global business, the country records roughly 2.3 million aircraft movements annually. But that number could be much higher very soon. India's burgeoning BizAv status has yet to fully take off. The tailwinds are there and the demand is growing, but there are still a few hurdles to overcome. If it all pans out, India may very well be the epicenter for BizAv by 2030. Here's why.
1. Strong presence of high net worth individuals
The biggest barrier to private aviation is and always has been the cost. BizAv is accessible only with a certain level of wealth.
India's population of high net worth individuals ranks among the top in the world, and it's only growing bigger. The number of high net worth individuals is expected to grow by an astounding 39% by 2023, showcasing a region of the world rife with wealth. This figure accounts for politicians, business executives, and independently wealthy individuals who have not only the means to use private aviation but also a reason to.
2. Position as a global economic hub
Delhi and Mumbai are two business and medical epicenters in India. Unsurprisingly, these two regions are also expected to witness the highest demand for BizAv in the coming years. With India serving as a global business hub connecting Europe, the United Arab Emirates, and Asia, business aviation traffic in and out of the country is booming.
With rising infrastructure and growing importance in the globalized economy, aviation growth in India is virtually inevitable. That's why it's no surprise that jet manufacturer Bombardier expects India's own BizAv fleet to grow tenfold by 2033. If that prediction comes to fruition, India will represent the largest private aviation market in the world.
3. High presence of MRO facilities and operations
In addition to building out its own BizAv fleet, India is making the country an inviting prospect for fleets across the world. The country has rapidly and extensively built up its aviation maintenance and repair operations (MRO) to the point of being a world leader. In doing so, it's setting the stage for rollout of its own fleet.
Mumbai is home to the only business-exclusive aviation airport in India, making it a convenient destination for jet owners to book MRO services for their jets. When they do, they have pick of more than 100 non-scheduled operators that provide ground handling, aircraft maintenance, MRO, and more.
What's holding India back?

With India primed to become the world's BizAv powerhouse, there are still
factors standing in its way
. Infrastructure continues to be a problem, as the country continues to expand rapidly. On the political side of things, import and customs standardization for BizAv still needs work, as taxation rates on BizAv are high. And with the government largely focused on civilian aviation, scheduled airlines are still given preference to private aviation at major airports.
Will India achieve its status as the BizAv powerhouse of the world? More than likely. The barriers it faces are barriers to other industries as well, which means they'll likely be solved sooner rather than later. When they are, India will have no trouble being the epicenter for BizAv for the foreseeable future.