Like any other mode of transportation, aircraft are subject to inspections and testing to ensure safety and general compliance. Jets require focused, specialized inspections that check everything from equipment function to regulatory compliance to the condition of the aircraft before a sale. Every inspection is important — and none of them are optional.
Get to know the various aircraft inspections
Aircraft are subject to several key types of inspections, which are used to ensure their safety. The Federal Aviation Administration (FAA) requires the following aircraft inspections to ensure that jets remain in working order and meet applicable safety standards. These inspections don't only promote safer aviation, they also improve compliance with guidelines concerning emissions, technology, and intended aircraft usage.
100-hour inspection — Any aircraft that's used to give instruction to or carry any person, other than a crew member, requires a 100-hour inspection. As the name implies, this type of inspection occurs after every 100-hour interval the aircraft is in service.
Annual inspection — The FAA requires all aircraft to undergo an annual inspection. Except for a few select cases, you're not permitted to operate any aircraft unless it has received an annual inspection within the preceding 12 calendar months. A mechanic with an Inspection Authorization (IA) from the FAA must complete this inspection.
Progressive inspection — A progressive inspection offers flexibility to owners of high-use aircraft. These inspections take place in shorter intervals, periodically, rather than in a single comprehensive inspection. Aircraft owners who wish to minimize downtime with progressive inspections must request permission from the FAA.
Special inspections — Several major systems and parts in an aircraft require special attention to ensure consistent, safe operation. Special inspections of the altimeter and transponders require consideration every 24 months, and every 12 months an inspection of installed emergency locator transmitters must be done.
Keeping your aircraft on a routine schedule with these inspections planned far in advance will help you avoid various fines, fees, and compliance issues.
Scheduling inspections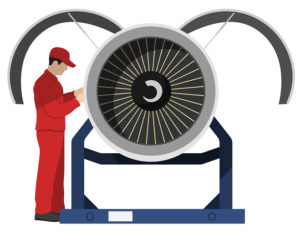 Timely inspections are essential for maintaining FAA compliance. Failing to meet strict inspection guidelines leaves you vulnerable to fees and citations that can prevent you from operating your aircraft.
To avoid the cost, inconvenience, and risks associated with delayed inspections, it's important to be as consistent as possible with all of your required inspections. Resolve any identifiable issues found during an inspection as quickly as possible to maintain compliance.
The best way to maintain a consistent inspection schedule and to achieve timely aircraft repairs is to establish a relationship with a company that offers comprehensive inspections, maintenance, and repairs. By working with the same company regularly, you benefit from consistent service, uniform records, and transparent communication.
Regardless of whether you need an aircraft inspection or you're looking for a new jet, a consultation with a reputable professional is the best place to start.
The expert jet brokers at L & L International are here to help you acquire the perfect jet.
We pride ourselves on our extensive knowledge of the aviation industry and our commitment to exceptional customer service. Need to sell your jet? We can assist with that, too.
Contact
the private aviation professionals online, at
sales@L-Lint.com
, or at
+1 (305) 754-3313
.