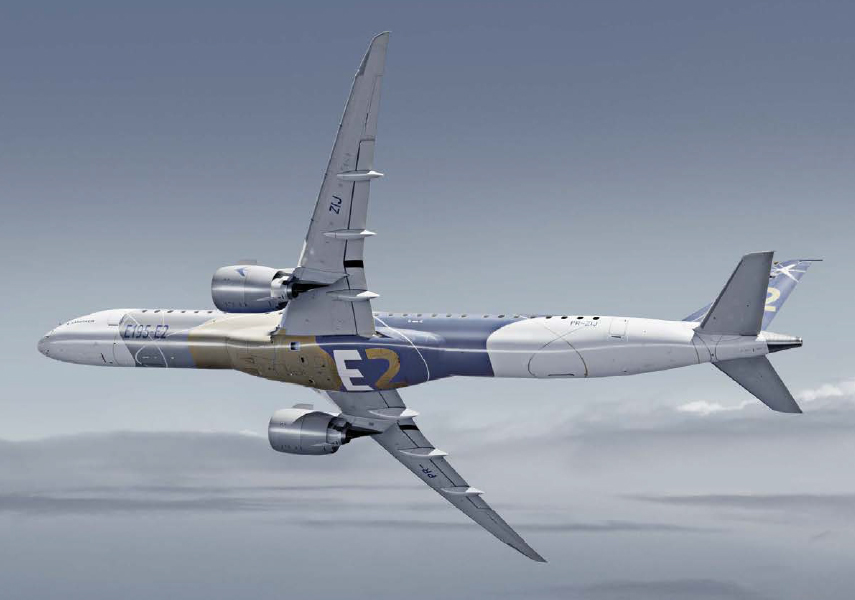 After debuting at the Paris Air Show and making stops around the world in China, Southeast Asia, and Europe, Embraer's new mega-sized E195-E2 jet has finally landed in the U.S. The aircraft, boasting 120+ seats, displayed its commanding prowess at Kennedy Space Center in Florida as part of its global roadshow tour. The goal? Showcase Embraer's largest jet and set the tone for an aircraft that's ready to dominate the fleet jet market in 2021.
A look at the E195-E2
Embraer is well-known for its E-Jet family of commercial jetliners and has undisputed success with aircraft in the 66-126 passenger range. The E195-E2 is a step up into a new class for the manufacturer. Three seating options — three-class with 120 seats, single-class with 132 seats, or single-class with 146 seats — show the company's foray into larger aircrafts and marks its largest jet to date. Adjustable seat pitch from 29" to 35" also makes it one of the most accommodating E-Jets.

With size comes power, too. Dual Pratt & Whitney PW1900G Geared Turbofans generate 23,000 pounds of thrust capable of reaching Mach 0.82, pushing the E195-E2 to a range of 2,600 nautical miles. Fully loaded, the jet has a maximum takeoff weight (mtow) of 135,584 pounds.
Perhaps the most staggering feature of the mega-sized jet is its environmentally conscious design. Advanced wing sloping, state-of-the-art avionics, and fuel-efficient engines make this jetliner surprisingly efficient, showing purposeful design by Embraer. According to the manufacturer, "the E195-E2 achieves double-digit lower fuel consumption compared to current-generation E-Jets." At present, it's expected to be the most efficient aircraft in the single aisle jet market.
What can we expect from the E195-E2?

The U.S. debut of the E195-E2 jet is generating plenty of buzz, but there's speculation by Embraer that this buzz won't necessarily culminate in domestic sales. Instead, the company is looking at Europe and Asia to carry this newest E-Jet to commercial success. The reason? U.S.
regional jet clauses limit aircrafts to 76 seats and mtow of 86,000 pounds
.
The E195-E2 is already generating strong demand abroad, however. After the Paris airshow the company reported 37 firm orders and commitments from European carriers, with more soft inquiries pending. Embraer also may change its focus in North America, moving away from regional jetliners to focus on transatlantic providers. It's a move that could be buoyed as Boeing steps in to take an 80% controlling interest in Embraer's commercial jet business.
A mega-sized jetliner future?
Embraer's decision to invest nearly $1.6 billion in the expansion of its E-Jet family has added fuel to the fire surrounding speculation for an industry shift toward bigger jets. The industry as a whole has shown a creep toward large-cabin options with more seating and larger gross mtow. The E195-E2 is another data point on this trend.
It makes sense. As international travel picks up and new global business hubs rise, jets need to transport more people, farther, in better time. In many ways, the E195-E2 is a standard for what to expect in the coming decade of travel. Emphasis on efficiency and capacity show forethought to an industry with growing demands for better performance standards. Standards only large-cabin jetliners can meet.
The expert jet brokers at L & L International are here to help you acquire the perfect jet.
Need to sell your jet? We can assist with that, too.
Contact
the private aviation professionals online, at
sales@L-Lint.com
, or at
+1 (305) 754-3313
.