Announced in 2018, Dassault's once highly anticipated Falcon 6X has faded into the background with the company's announcement of even more ambitious projects. But as its release date draws closer, the Falcon 6X is back on the industry's radar. The 6X remains on track for a full release in 2022, and Dassault is expected to put a fourth test plane in the air before the end of this year. There's still much to do before the Falcon 6X is fully certified, but Dassault is committed to its timeline for its latest luxurious twinjet.
A big addition to the private aviation sector
The path to market for larger aircraft can take significantly longer than their light and medium airframe counterparts. This slow progression is even more pronounced in a behemoth craft like the Falcon 6X, which simultaneously falls into the large, long-range, and ultra-widebody categories. In fact, Dassault is on record claiming the Falcon 6X is in a new heavy jet category all its own.
Measuring 84.3 feet long and 24.5 feet tall, and boasting an impressive 85.1-foot wingspan, there's no mistaking the tremendous size of this jet. And, at 77,460 pounds of maximum takeoff weight, it's one that requires significant power to get up in the air. Speaking of which, the Falcon 6X can get off the ground with less than 3,000 feet of runway — truly an amazing achievement for a craft of its size.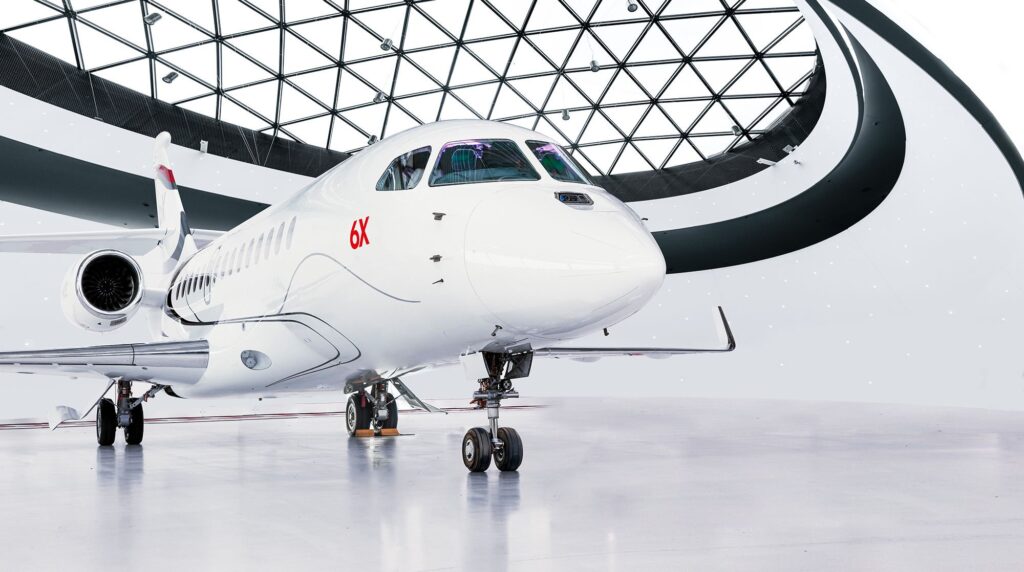 The slow path to market
Nearing four years since its initial showcase, Dassault's Falcon 6X has faced rigorous testing on its way to market. A jet of this size requires significant airtime, and Dassault is well-known for exacting standards in refining and perfecting its aircraft. Speaking at the NBAA-BACE conference in Las Vegas in October, Chairman and CEO Eric Trappier shed light on just how far the jet has come.
According to Trappier, the company has three Falcon 6X airframes flying and a fourth expected to begin logging hours before the close of 2021. Its current jets are flying two to three times a week, and have collectively logged more than 300 hours over more than 100 flights. And there's still more to come. "There is still considerable test activity to be completed, as in any test campaign," said Trappier. "But we can report at this point that we are achieving milestones at a pace that our test engineers are really happy with."

On-track for a 2022 entry-into-service date
The fourth test jet from Dassault is a significant milestone on the Falcon 6X's march to market. It will be the first production jet to leave the runway, and with its takeoff, Dassault begins the countdown to an anticipated 2022 entry-into-service date. Barring setbacks, this fourth test jet will be the one jet-setting around the globe on a world tour.
What's left to finalize before the Falcon 6X makes its mark on customers? Its Pratt & Whitney Canada PW812D engines are in the final stages of certification. Dassault is also checking the final boxes on acoustic and thermal testing for the jet's cabin and conducting final testing on cabin pressurization and airflow. As these finishing touches fall into place, the Falcon 6X looks more and more like the jet Dassault promised four years ago.