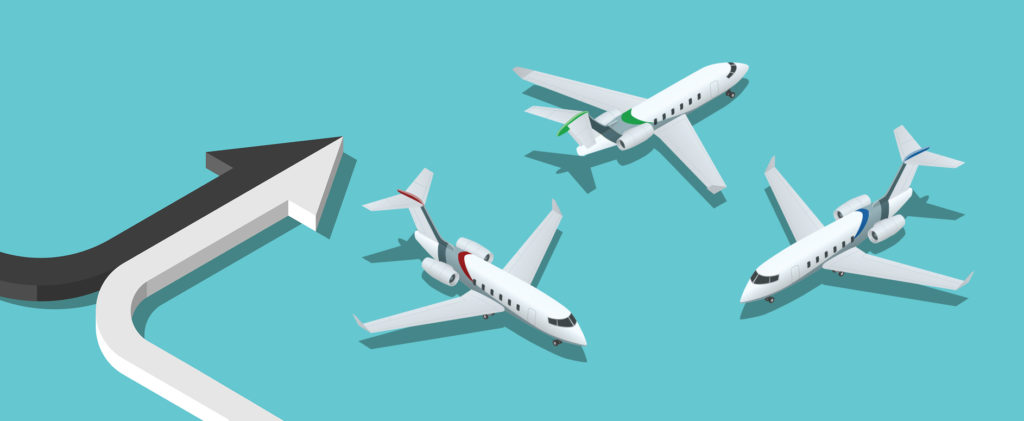 As an industry grows and evolves, consolidation becomes inevitable. Mergers and acquisitions are the way strong players get stronger and rising stars find success. It's also a way to weed out inefficiency. In fragmented markets such as private aviation, consolidation is necessary to ensure the continued growth and expansion of the industry, before it begins to stagnate.
A look at the private aviation industry
Consolidation is nothing new for the private aviation sector. From 1955 to present day, 25 original manufacturers have existed. Today, there are roughly 14 producers still putting out jets, with 11 core companies presiding in ownership.
Over the past 60 years, several big names have changed hands and still more jets have fallen out of production. Some notable examples include the world-famous Learjet becoming part of Bombardier in 1990 and Cessna being absorbed by Textron Aviation in 1991. Various other smaller deals occurred right around the same time.
But there's more consolidation to be had. In an industry such as private aviation, a near 1:1 manufacturer-to-owner ratio is a sign of market share up for grabs. Companies such as Boeing, Airbus, Embraer, and others have only been in the market for two decades, right around the time of the last industry consolidation. Opportunities for acquisition are coming to a head.
Beyond manufacturers
Manufacturers aren't the only aspect of the aviation industry ripe for consolidation. Thanks to headwinds like the global pilot shortage and the rise of new trends like flight sharing, consolidation is also coming to management firms and chartering companies.
According to a panel of industry veterans at the Corporate Jet Investor Miami conference in November 2018, aircraft management is severely fragmented. Estimates show that the top 10 private jet management companies control less than 10% of the total global managed fleet. The sector needs acquisitions to create an economy of scale, bringing about lower costs and standardized incentives for qualified pilots.
Being able to standardize staffing, charters, jet maintenance, and more will enable the private aviation industry to scale sustainably in the coming years.
Change is already happening
While there are little more than rumblings about manufacturer mergers and acquisitions, change is already sweeping through other parts of the industry. In 2018, private charter broker PrivateFly was acquired by competitor Directional Aviation, creating the world's largest provider of digital, on-demand private jet travel. The company has access to more than 7,000 aircraft worldwide.

This acquisition hasn't gone unnoticed around the industry. Many smaller charter companies have begun posturing with hopes of acquisition, while others are certainly thinking more creatively about how to attract and retain customers.
Going back even further, jet management company Luxaviation began an acquisition run in 2014 that tripled its size in just two years. Since then it's continued to grow, adopting chartered services and building out peripheral services to become a global leader in private aviation services. The company is a key example of what consolidation can do.
As the private aviation sector matures, consolidation is an inevitability. This year may be the year dominoes begin to fall and companies start to join forces, to reap a larger slice of the pie.