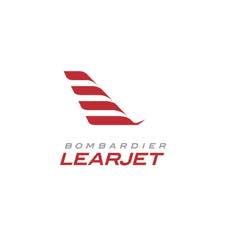 The original Learjet 23 was a six to eight seater and first flew on October 7, 1963, with the first production model being delivered in October 1964. Just over a month later, Lear Jet became a publicly owned corporation. Several derived models followed, with the Model 24 first flying on February 24, 1966 and the Model 25 first flying on August 12, 1966. On September 19 of the same year, the company was renamed Lear Jet Industries Inc.
In 1974, the worldwide Learjet fleet had exceeded the one million-flight hours mark and in 1975 the company produced its 500th jet. In both instances they were the first manufacturer to do so. By late 1976, the company had increased the number of aircraft being produced each month to 10.
On August 24, 1977, the Learjet 28 made its first flight. The Learjet 28/29 was based on the Learjet 25, and received a completely new wing fitted with winglets, resulting in improved performance and fuel economy. The Learjet 28/29 became the first production jet aircraft to utilize these winglets – which are now a common sight on most business and commercial airplanes. The winglets inspired the name "Longhorn" for the short-lived Learjet 28/29 series and for some of the more successful models that followed.
In 1987, the Gates Learjet was acquired by Integrated Acquisition and the next year the name was changed to Learjet Corporation. By January 1989 all production had been moved from the Tucson facility back to Wichita. The next year, 1990, Bombardier Aerospace purchased the Learjet Corporation. The aircraft were then marketed as the "Bombardier Learjet Family".
On October 10, 1990, the Learjet 60 mid-sized aircraft flew its first flight, followed on October 7, 1995 by the Learjet 45. In October 2007 Bombardier Learjet launched a brand new aircraft program, the Learjet 85. It was the first FAR Part-25 all composite business aircraft.
On October 7, 2008, Bombardier celebrated Learjet's historic 45th anniversary of the first flight ever by a Learjet. As a way to commemorate this, Bombardier Business aircraft (a division of Bombardier inc.) decided to launch the Year of Learjet campaign, a yearlong celebration to honor Learjet's contribution as a pioneer to the private business jet industry. One of the most memorable events to mark this celebration occurred at the Farnborough Air Show, when Formula One prodigy Lewis Hamilton raced a Learjet and won.