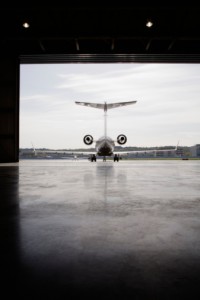 The private jet market is relatively new in China. Between 2009 and 2012, China's mushrooming economic growth meant that increasing numbers of the population were able to amass large personal fortunes — and the market for new private jets was robust. Before 2013, no resale market existed for business jets in China, but since then at least two major Chinese companies have sold their corporate jets at a loss. The demand for private jets has drastically decreased, and industry experts predict a continued decline in 2015.
Corruption crackdown curbs jet ownership
One reason for the decline may be Chinese citizens' reaction to their government's recent crack downs on corruption. Despite the fact that many business aviation companies market their planes as efficiency tools, the public has long regarded jet ownership as a way to help government officials and business people collaborate on illegitimate business deals. The complicated interrelationship between business people and government officials in China does little to destroy this illusion.
A frugal mood
Another reported reason for the decline in favor may have something to do with the public problems of Chinese comic star, Zhao Benshan. Zhao has recently been plagued with rumors that his fortunes are fading, that his family was planning to emigrate out of China, and that his works have been banned in some countries. Zhao purchased a private jet — one of the Challenger series from Bombardier Aerospace — for 200 million yuan ($32 million U.S.) in 2009, but reportedly asked to return the jet after being hospitalized.
Zhao later gave up on the idea of returning the jet when he learned that he would take a large financial loss on the deal. The topic later resurfaced in late 2014 as continued rumors of his fall from official favor — combined with hints that Zhao might donate his jet to the government — have continued to influence the private jet market. The situation has resulted in a kind of butterfly effect. As long as the central government of China is stressing frugality in hard economic times, the wealthy will be compelled to postpone their purchase of a private jet and even withdraw their orders to avoid drawing unpleasant attention to themselves.
Chinese jets may flood the market
What does the frugal Chinese mood mean for the private jet market in China? Forbes writer, Russell Flannery, reports that both existing jet owners and would-be first-time buyers of private jets are now reluctant to invest in such luxury items. The government crackdown on corruption and a creeping "anti-luxury" sentiment under Chinese President Xi Jinping has caused a lot of second thoughts among the wealthy. The current mood in a country of such previous economic growth is emphasizing frugality, and owners of private jets are less willing to show off their pricey symbols of wealth in such a time.
As a result, up to 20% of China's existing private jet fleet, including their corporate jets, could be going up for sale in 2015. Buyers in other nations could snag some great deals while the Chinese market looks bleak for new jet sales.
Contact L & L International if you need assistance in purchasing or selling a private jet.You can reach our sales specialists today at sales@L-Lint.com, call us any time at +1.305.754.3313, or visit us online.