BOMBARDIER CHALLENGER 604 (2000)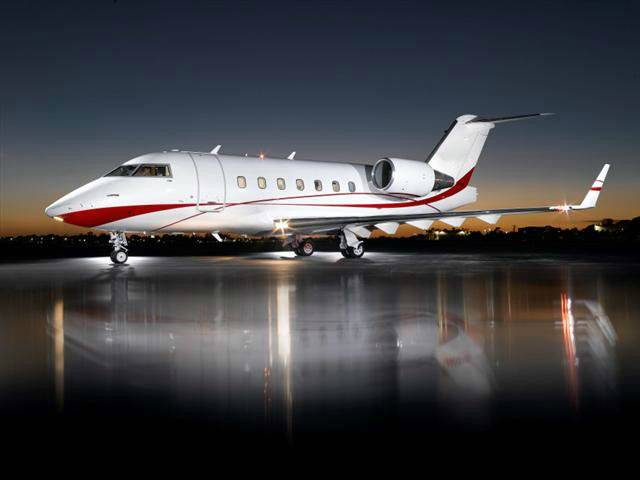 | | |
| --- | --- |
| Make | Bombardier |
| Model | Challenger 604 |
| Year | 2000 |
Highlights
Model year 2000

Engines on GE On-Point

APU on MSP

Go-Go Biz Internet

New Paint c/w Nov 2011

Interior Refurb c/w 2012
General
Model year 2000
Engines on GE On-Point
APU on MSP
Go-Go Biz Internet
New Paint c/w Nov 2011
Interior Refurb c/w 2012
Avionics
Collins ProLine 4 Avionics Suite
6 Tube EFIS/Flight Director FCC-4006
Dual Collins VHF-422C Comms
Dual Collins VIR-432 Navs
Dual Collins DME-442
Dual Collins ADF-462
Dual Collins TDR-94D EHS "S" Transponders
Collins RTA-854 Radar w/ Dual Controllers & Lightning Detection
Dual Inertial Reference Systems
Dual Collins FMS-6000 w/ Dual Collins GPS-4000
FCC-4008 AutoPilot
Dual Collins RTU-4000 Radio Tuning Units
L3 FA-2100 Cockpit Voice Recorder
L3 FA-2100 Flight Data Recorder
Collins ALT-55B Radio Altimeter
Honeywell Mark V EGPWS
Collins PCD-3000 Data Loader
Collins ADC-850E Air Data Computer
Collins TCAS-II TTR-921 w/ SELCAL
Artex 406 Satellite ELT w/ Nav Interface


Weights

Max. Takeoff Weight – 48,200 lb (21,863 kg)
Max. ramp Weight – 48,300 lb (21,909 kg)
Max. landing Weight – 38,000 lb (17,237 kg)
Basic empty Weight – 27,512 lb (12,505 kg)
Max. Zero Fuel Weight – 32,000 lb (14,515 kg)
Max Fuel Weight – 20,000 lb (9,072kg)
Exterior
Completed November 2011 by Flying Colours in Peterboro, Ont.
Overall Pearl White with Red Ribbon Accent Stripes
Interior
Challenger 605 Interior Completed 2012
Configuration

Executive Seating for 12 Passengers
Featuring Foward (4) Place VIP Club Chairs and Aft (4) Place Conference Group Opposite One (4) Place Divan
Berthable Divan and Conference Group

Foward Galley Finished in Dark Ebony Wood w/ CL-605 Latches throughout Features

Espresso Coffee Maker
Microwave Oven
High-Temp Oven
Ice Drawer
Wine Storage
Waste Compartment and Storage for Custom HERMES China

Entertainment System

Airshow 400
(2) 21″ Fwd and Aft Bulkhead Cabin Monitors
(2) DVD (One Blueray) w/ Provisions for (3) Plug-In Monitors
CD Player
High Quality Cabin Speakers 115v 60 Hz Power w/ IPOD Connectivity

Additional Equipment

Accordian Window Shades
Go-Go Biz WIFI Internet

Aft Lavatory

Right Hand Side
Vanity Cabinet w/ Glass Sink and Decorative Faucet
Airframe Time
4,285 Hours
2,848 Landings
Part 135 Operation
RVSM Compliant
Engines
| GENERAL ELECTRIC CF34-3B | LEFT | RIGHT |
| --- | --- | --- |
| Hours Since New |  4,285 | 4,285 |
| Cycles Since New |  2,848 | 2,848 |
| Program Coverage | GE On-Point | GE On-Point |
APU
HONEYWELL GTCP-36-100E
Hours Since New
 3,765
Program Coverage
MSP
Equipment
Aircell AXXESS II  with Go-Go Biz Internet
Precise Pulselites
115V, 60Hz Power
Model Info
The spacious Challenger 604 has become the world's best-selling large corporate jet due to its mission versatility, supreme comfort, and cost efficiency of smaller jets. Equipped with one of the widest and quietest cabins in its class, the Challenger 604 provides an ideal environment for in-flight business meetings.  It typically accommodates 9-12 passengers, depending on its seating configuration. This luxurious jet has transcontinental range for non-stop coast-to-coast trips, with frequent flights including Los Angeles to Miami or New York to London.
Specs:
Passengers: 9-12 (default)
Lavatory: Enclosed
Maximum Speed: 870 km/h
Maximum Altitude: 41,000 ft.
Range: 4,077nm (default)
Cabin Size: 8'2" (width) x 28'4" (length) x 6' (height)
Baggage Capacity: 115 cu. ft. (default)
Cabin
The flight deck, cabin and baggage compartment are pressurised and air-conditioned. An active noise vibration control system developed by Ultra Electronics can be installed.
The 19m² cabin can be configured with up to nine business-class seats. Alternatively higher-density seating can be installed for up to 19 passengers. The cabin interior is installed to meet the customer's requirements.
Bombardier is offering an optional improved extended interior cabin configuration that adds two windows to the seating area and extends its length by 0.5m.
Flight deck
The flight deck is equipped with dual controls for the pilot and co-pilot. The avionics suite is based on a Rockwell Collins Pro Line 4 integrated system with a six-tube (184mm x 184mm) Electronic Flight Information System (EFIS), a dual-channel autopilot and flight director, a dual flight management system and a digital automatic flight control system. The pilots' communications suite includes dual VHF and HF radios, dual air traffic control transponders and a cockpit voice recorder. The aircraft is certified for Cat II operations.
The TWR-854 colour digital weather radar provides turbulence protection. The aircraft's navigation systems include a dual Northrop Grumman (Litton) LTN-101 laser inertial reference system, dual VHF navigation, a dual-distance measuring system and a dual automatic direction finder.
Bombardier is offering an avionics upgrade, the Rockwell Collins PrecisionPlus, for the 604. PrecisionPlus enhances the Pro Line 4 and features automation of Vspeed calculation and thrust setting as primary information and three-dimensional display of the aircraft's flight plan. This is coupled with a new enhanced auto-throttle system. This system is now installed on all production aircraft and can be retrofitted.
Engines
The aircraft has two General Electric CF34-3B turbofan engines each providing 38.84kN (8,729lbs) thrust at take-off. The engine nacelles from Bombardier Aerospace, Belfast, are mounted on pylons on the rear of the fuselage. The engines are fitted with cascade fan-air thrust reversers.
Auxiliary tanks bringing the maximum fuel load to 9,072kg can augment the fuel tanks. The aircraft has pressure and gravity refueling points.
The aircraft has two 30kVA generators supplying the three-phase 115/200V Ac primary power. The DC supply comes from four transformer rectifiers and a primary and secondary battery. A Honeywell GTCP-100E gas turbine auxiliary power unit provides the power for engine starting and ground air conditioning.
Get in touch for a complimentary buyers analysis on this Bombardier Challenger 604.