2013 Bombardier Global 6000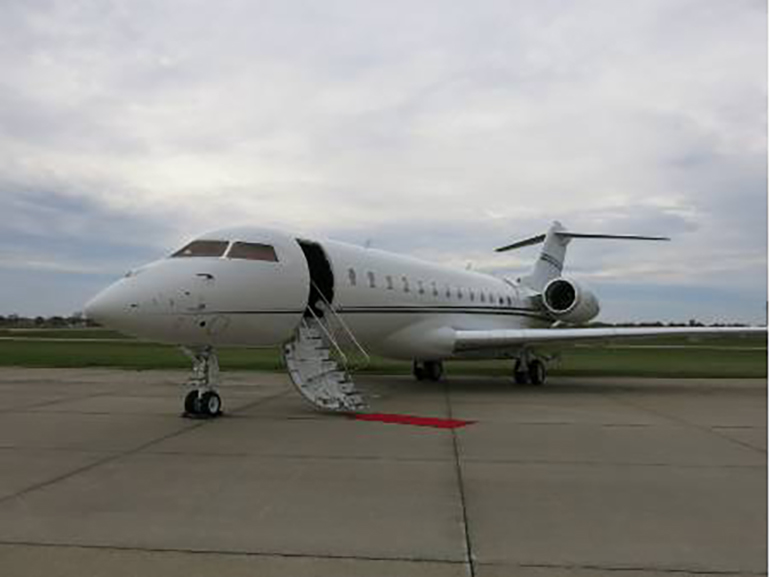 | | |
| --- | --- |
| Make | Bombardier |
| Model | Global 6000 |
| Year | 2013 |
Highlights
Synthetic vision

Enrolled on RRCC, MSP and Smart Parts Plus

14 Passenger

Provisions for Worldwide Satellite TV
General
2,032 Total Time
560 Landings
Synthetic vision
Enrolled on RRCC, MSP and Smart Parts Plus
14 Passenger
Provisions for Worldwide Satellite TV
Model Info
The Bombardier Global 6000 corporate jet is the most luxurious most accomplished business aircraft ever built, accommodating the desires of the most sophisticated and demanding traveler with no compromises. Building on its Global Express heritage and raising the bar yet again, this extraordinary aircraft offers even greater cabin comfort, enhanced performance and further advanced technology for increased productivity and peace of mind.
Specs:
Passengers: 12-18 (Default)
Lavatory: Full Enclosed
Maximum Speed: 950 km/h
Maximum Altitude: 51,000 ft.
Range: 6,000nm (default)
Cabin Size: 8'2" (width) x 48'3" (length) x 6'2" (height)
Baggage Capacity: 325 cu. ft. (default)
Cabin
With a cabin as responsive to your needs as the world's finest hotel, the Bombardier Global 6000 offers the ultimate in spaciousness, privacy, luxury and comfort. From a well-appointed aft stateroom with its own amenities, to the separate and generous main cabin, ample galley and dedicated crew rest area – nothing has been overlooked in providing the ideal "13-hour-plus" environment. Numerous enhancements are evidence of the even more enlightened approach to passenger comfort and productivity that Bombardier has taken with the Global Express 6000.
The stately Global Express 6000 aircraft offers the widest cabin with the longest seating area as well as more usable floor space than any ultra long-range aircraft in operation today. This allows you an incomparable amount of freedom to arrange your space to perfectly suit from 8 to 19 passengers and your personal needs.
Flight deck
The cockpit inside the 6000 is outfitted with the Rockwell Collins Pro Line Fusion avioincs suite. It includes Bombardier's 3rd Generation Enhanced Vision System (BEVS), Head-Up flight display system and Advanced diagnostic and troubleshooting tool.
Engines
The 6000 gains this power from two Rolls-Royce Deutschland BR 10A2-20 turbofan engines. These engines produce 14,750 lbs of thrust each. Consequently, the XRS earns bragging rights with its 6,100+ nautical miles range.
Performance
The 6000 is designed to travel at high speeds and high altitudes. Improved from its predecessor, the wing is swept back 35 degrees, and features high ratio root-to-tip taper and high aspect ratio. Four sections of aluminum slats also enable the aircraft to takeoff and land at lower speeds. For an aircraft of its size and purpose, the 6000 travels fast. It takes a mere 20 minutes to reach a 37,000-foot altitude at initial climb. Its long-range cruise speed is 470 ktas, while the jet boasts a high-speed cruise of 499 ktas.
Get in touch for a complimentary buyers analysis on this Bombardier Global 6000.