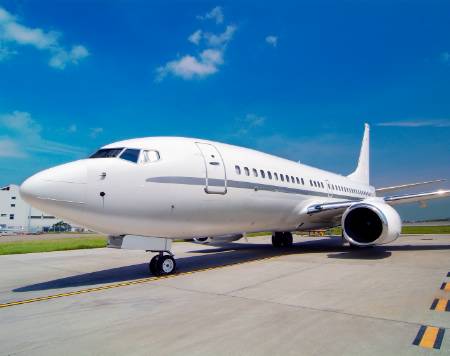 | | |
| --- | --- |
| Make | Boeing |
| Model | BBJ |
| Year | 2012 |
Highlights
29 Passenger

Low TT

5,660 NM Range
General
29 Passenger
Low TT
5,660 NM Range
Model Info
With it massive 807 sq. ft. of interior space the BBJ offers one of the most spacious and luxurious cabins on any aircraft. The BBJ is based on the 737-700 airliner giving the owners piece of mind knowing they have routine maintenance, proven reliability, and incredible structural strength.
The BBJ can fly more than 6,000nm non-stop. A BBJ called " Triple 7" flew a record 6,854nm from Seattle, USA to Jeddah, Saudi Arabia at an average cruise speed of Mach 0.78 becoming the first non-commercial aircraft to cross the North Atlantic using future air navigation system (FANS) technology.
Specs:
Passengers: 19 (default)
Lavatory: Full (default)
Maximum Speed: 871 km/h
Maximum Altitude: 41,000 ft.
Range: 6,141nm (default)
Cabin Size: 11'6" (width) x 79'2" (length) x 7' (height)
Baggage Capacity: 606 cu. ft.
 Cabin
The spacious 807ft² cabin can be fully customized to meet any individual or business requirements. Interior designers can include and execute executive offices, conference rooms, private offices and bedrooms. Personal environments can be created for example with a living room, dining room, two bedrooms and two bathrooms.
 Flight deck 
The glass cockpit incorporates many features of the Boeing 777 cockpit. The cockpit is being fitted with a Rockwell Collins Flight Dynamics HGS-4000 head-up display and six Honeywell flat-panel liquid crystal flight displays. The HGS-4000 has improved low-visibility take-off guidance, runway deceleration cueing and advanced display features. Integrated dual global positioning system and a flight management system based on dual flight management computers supplied by Smiths Industries.
Construction
The BBJ's are constructed in Boeing Corporations Seattle, Washington headquarters. Delivering them in a green configuration (no paint or interior) to any completion center selected by the customer for interior installation and painting.
Basing the BBJ on the proven & Classic 737-700 combined with the center section, strengthened aft section, wings and landing gear of the 737-800.
Optional winglets from Aviation Partners Inc yield a typically 5% increase in range through an up to 7% reduction in the turbulence-induced drag at the wingtips.
Engines
The aircraft has two CFM International CFM56-7 turbofan engines, each providing 117.4kN. The wing tanks hold 26,025l of fuel and optionally from three to nine auxiliary fuel tanks (belly tanks) can be installed.
The BBJ is certified and capable of 180mins extended-range, twin-engine operations (ETOPS) providing access to more direct and shorter routes.
Service
The Boeing Business Jet Company provides maintenance and warranty agreements with 24-hour customer support worldwide. Routine parts are provided by a next-day shipment service and a two-hour shipment for airplane-on-the-ground (AOG) orders.
Get in touch for a complimentary buyers analysis on this Boeing BBJ.