2001 GULFSTREAM G200, S/N 54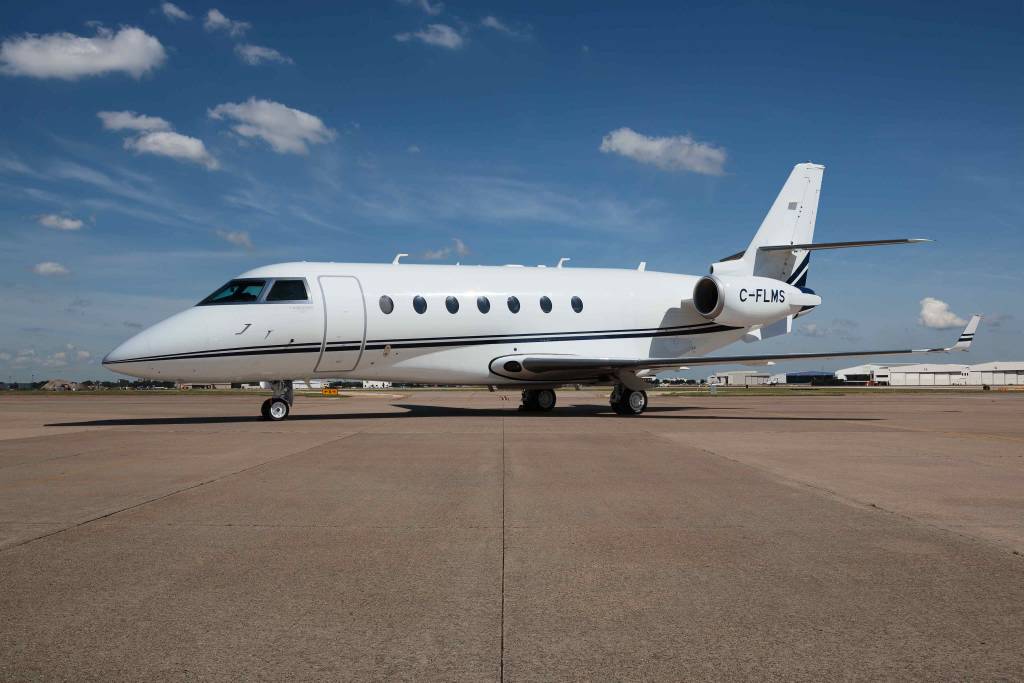 | | |
| --- | --- |
| Make | Gulfstream |
| Model | G200 |
| Year | 2001 |
| Serial Number: | 54 |
| Registration: | C-FLMS  |
Highlights
Entry into Service December 31, 2001

Engines enrolled on ESP Gold

APU enrolled on MSP

Airframe enrolled in Gulfstream Plane Parts

GoGo High Speed Internet

2013 Paint and Interior (including woodwork) at Gulfstream Dallas
General
Entry into Service December 31, 2001
Engines enrolled on ESP Gold
APU enrolled on MSP
Airframe enrolled in Gulfstream Plane Parts
GoGo High Speed Internet
2013 Paint and Interior (including woodwork) at Gulfstream Dallas
Avionics
Collins Proline IV 5 Tube Avionics Suite
Dual Collins FMS-6100 w/ GPS
Dual Collins ADC-85C
Dual Collins FCC-4005 CAT II w/ Alt Pre Sel
Dual Comm Collins VHF-422C w/ 8.33kHz Spacing
Dual Collins VHF NAV VIR-432
Dual Collins DME-442
Dual Collins RTU
Dual King KHF-950 w/ Motorola SELCAL
Dual Collins TDR-94D Mode S w/ Enhanced Surveillance
Honeywell AFID 2/ VHF Link
Collins ADF-462
Collins ALT-4000
Collins TWR-850 Color Radar w/ Turb. Det.
Collins TCAS-94D w/ Change 7.1
Honeywell LASEREF IV IRS
Honeywell AR-256 FDR (57 Parameters)
Universal-30B CVR
Artex 406 ELT
Aircell ST-3100 Iridium SATCOM
Exterior
New Paint & Grey De-Ice Boots Completed by GAC Dallas in April 2013
Overall Matterhorn White with Two Stripes in Aeisto Blue and Medium Gray
Interior
New Fireblocked, Part 135 Compliant Completed by GAC Dallas in April 2013
(9) Nine Passenger Configuration w/ Custom Designed Galley featuring
Layout: FWD (4) Four Place club, and AFT (3) three place Divan opposite (2) Two Club Seats

The Aft Divan is Berthable and is Certified for 3 Passengers
All seats and divan are light beige leather with ultra leather headliner. Light beige and light brown pattern fabric on side and bottom paneling

Colors:

Side Panel- Townsend Classic Embossed Woven
Carpet- Redrock Sandstone 80
Entry Flooring- Color 122 Brown
Countertops- Corian Color Acorn
Forward Galley Features:

TIA Coffee Brewer
TIA Warming Oven
Galley Pocket Door
Opposite of the galley is a built in Jumpseat
New Galley and Lav countertops April 2013

The Entertainment system Features:

 GOGO High Speed Internet with Aircell ATG-5000 Internet System with Wireless cabin and wired LAN ports
Airshow 4000
Dual DVD Players and a 12 Disk CD Player
Dual Forward and Aft 13.5' Monitors Installed
Communication is provided by Aircell ST3100 Satellite Telephone System w 2ea Handsets and with a "Phone Call" annunciator at Pilot Panel
110 VAC Outlets
RJ-11 Data Ports
iPOD Docking Station
LED lighting in the Lavatory, Galley, Entrance, and Cabin Valance and Ceiling
Airframe Time
Total Time: 5,072
Landings: 2,690
Inspection Status: Up to Date
Airframe Enrolled in Gulfstream Plane Parts
CMP with MSG3
Engines
| PWC306A W/ PHASE IV UPGRADE | LEFT | RIGHT |
| --- | --- | --- |
| Serial Number | 0110 | 0109 |
| Hours Since New | 4,790.5 | 4,790.5 |
| Cycles Since New | 2,553 | 2,553 |
| Program Coverage | ESP GOLD | ESP GOLD |
APU
GTCP36-150
Serial Number
P-156
Hours Since New
2,799
Program Coverage
MSP GOLD
Equipment
GoGo Highspeed Data w/ ATG 5000
RVSM Certified
Stand-by Altimeter
Dual Devtron M-850 Digital
Model Info
The Gulfstream 200 was one of the first private jets in the Gulfstream series, jets that would become top competitors in the super-midsize category. This jet continues to compete today with the more recent G450 and G550. The Gulfstream 200 has everything that could be desired in a private jet: great range, cabin size, and speed. It's the ideal jet for completing long-range missions rapidly and comfortably.
Specs:
Passengers: 8 (default)
Lavatory: Enclosed
Maximum Speed: 900 km/h
Maximum Altitude: 45,000 ft.
Range: 3,350nm (default)
Cabin Size: 7'2" (width) x 25'5" (length) x 6'3" (height)
Baggage Capacity: 150 cu. ft. (default)
Cabin
The cabin of the Gulfstream 200 can be configured to hold anywhere between eight and nineteen seats. Optional additions include a radio phone, entertainment systems, and interior design upgrades. There are power outlets available for any piece of office equipment in addition to an outlet for each passenger. There is 125 cubic feet of baggage space available in an external compartment, able to contain up to 2,400 pounds. An added bonus of the Gulfstream 200, having been designed in the extreme temperatures of Israel, is its capacity to maintain a cool cabin. According to Galaxy Aircraft Corp, the Gulfstream 200 can cool the cabin to 75ºF on a 113ºF day. Both the cabin and the cockpit have separate climate controls, and the air in the temperature control system continually provides the passengers with fresh air instead of re-circulated air.
Flight deck
Galaxy Aerospace Corp selected the Collins Pro Line 4 avionics suite for the Gulfstream 200's glass cockpit. A central EICAS (Engine Indicator and Crew Alert System) screen is surrounded by four smaller screens that display flight and systems information. Standard devices include dual ARINC 429 Pro Line Communication/Navigation/Identification radios with dual DMEs and ADEs, a single AlliedSignal GNS-X/EX FMS (Flight Management System), a WXR-840 solid-state weather radar diagnostic computer, digital autopilot, digital air data and attitude/heading reference system. Practically any additional equipment can be added if desired.
Engines
Two Pratt & Whitney PW306A engines power the Gulfstream 200, each flat-rated to 6,040 pounds of thrust. These engines are very similar to the PW305 engines used successfully on the Learjet 60 and the Hawker 1000. They have the same high standards of performance but put out 785 more pounds of thrust.
Get in touch for a complimentary buyers analysis on this Gulfstream G200.