1996 Gulfstream G-IV SP, S/N 1304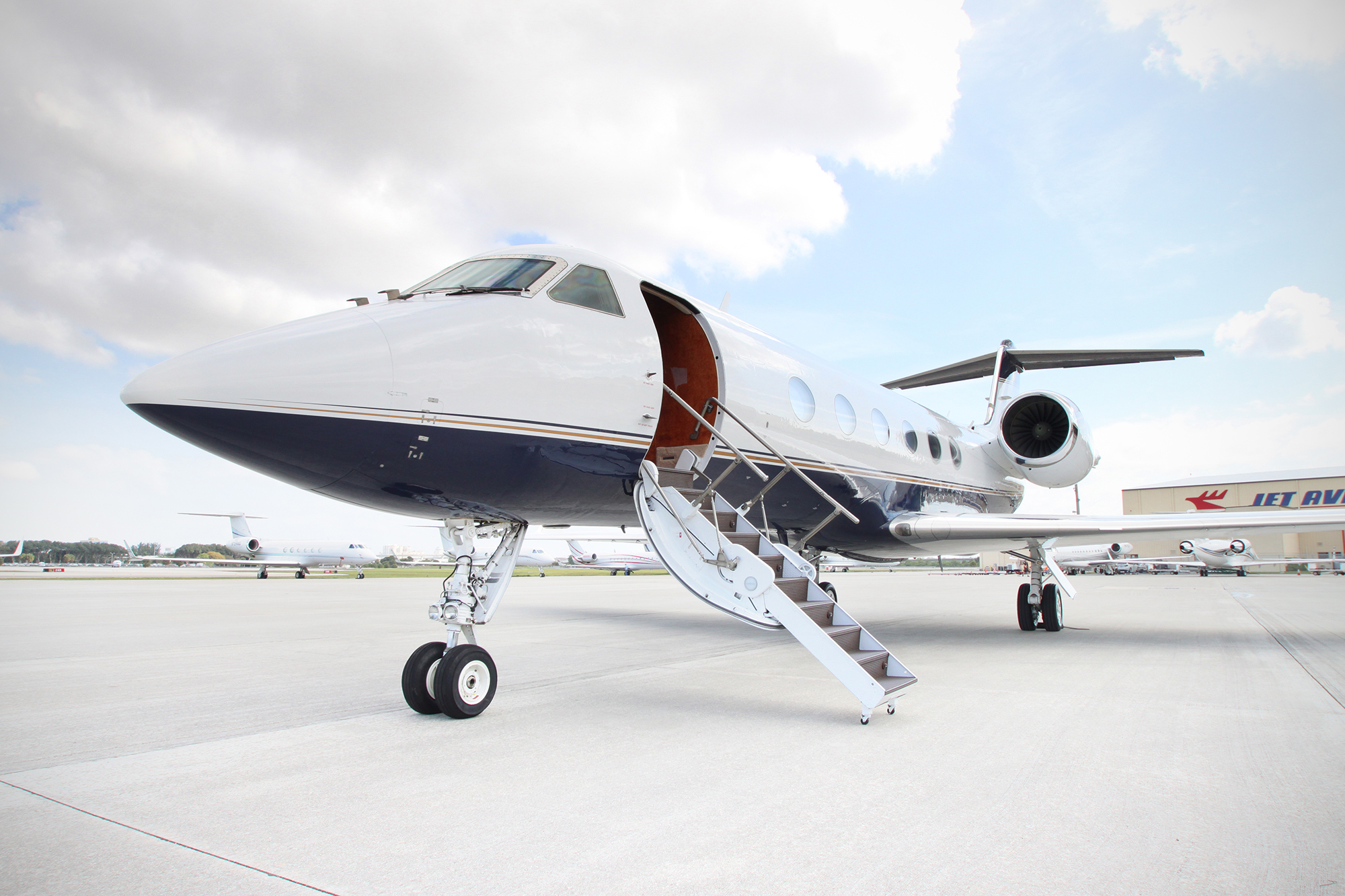 | | |
| --- | --- |
| Make | Gulfstream |
| Model | G-IV SP |
| Year | 1996 |
| Serial Number: | 1304 |
| Registration: | N526EE |
Highlights
Engines Enrolled on RRCC

APU Enrolled on MSP

Painted in 2013

ADS-B Out Complaint

Gulfstream CMP Maintenance Tracking
Avionics
Avionics Suite: Sperry SPZ-8400 System
Autopilot: Dual Honeywell SPZ-8400
Flight Guidance: Dual Honeywell FZ-820 FGC
Nav Radios: Dual Collins VIR-432
HF Radios: Dual Collins HF-9000 with SELCAL
FMS: Dual Honeywell NZ-2000 w/ GPS & 6.1
EFMS: Honeywell GNS-XLS w/ AFIS Interface
FDR: Fairchild F-1000 Flight Data Recorder
CVR: Fairchild A-100 Cockpit Voice Recorder
ADF: Dual Collins ADF-462
TCAS: Honeywell TCAS-II w/ Change 7.1
IRU: Triple Honeywell LaserRef II
DME: Dual Collins DME-442
Radar Altimeter: Honeywell RT-300
Weather Radar: Honeywell WXR-870 w/ Turbulence Detection
ADC: Dual Honeywell AZ-810 Air Data Computer
Comm Radios: Dual Collins VHF-422C COMM w/ 8.33 kHz
Transponder: Dual TDR-94D w/ Flight ID Elementary Surveillance
Exterior
Completed 2013
Two-Toned White Upper with Dark Blue Bottom, and Blue and Gold Accent Stripes
Interior
Thirteen (13) Passengers Fireblocked interior with one (1) Jumpseat
– Fwd cabin features four (4) place executive seats with fold out tables
– Mid cabin features a 3-place divan opposite two (2) executive seats
– Aft Cabin features a 4-place conference group opposite a credenza
Aft Credenza contains entertainment system, including a LCD Monitor, 10 disc CD changer, VCR and DVD players.
Fwd & Mid Cabin seats and divan are provisioned for plug-in LCD video monitors
Aft Galley features a convection oven, microwave oven, hot cup and coffee maker.
Fwd Crew Lavatory opposite coat closet
Aft Lavatory
Aft Baggage
Woodwork is finished in a medium Birdseye Maple
Airframe Time
Total Time:13,489.1 Hours
Total Landings: 6,352 Landings
Entered Into Service: June 1997
Gulfstream CMP Maintenance Tracking
Engines
| Rolls Royce Tay MK 611-8 | LEFT | RIGHT |
| --- | --- | --- |
| Serial Number |  16727 |  16728 |
| Hours Since New |  13,028.9 | 13,028.9 |
| Cycles Since New |  6,117 |  6,117 |
| Program Coverage | RRCC |  RRCC |
APU
HONEYWELL GTCP36-150(G)
Serial Number
 P-788
Hours Since New
2,212
Program Coverage
  MSP
Additional Equipment
Honeywell MSC-3000 SATCOM
RVSM Compliant
Allied Signal MK-V EGPWS w/ Windshear
ARTEX 406 MHz ELT
USB Data Loader
Allied Signal AFIS with SATCOM Link
Acculex Cockpit Printer
Iridium Phone
Airshow 400
ADS-B Out Compliant
Weights
Gross Weight (Ramp): 75,000 lbs
Max Take Off Weight: 74,600 lbs
Max Landing Weight: 66,000 lbs
Zero Fuel Weight: 49,000 lbs
Empty Weight: 42,315 lbs
BOW: 44,440 lbs
Model Info
This midsize intercontinental model is an upgraded version of the GIV, with SP meaning special performance. You can expect longer range, better fuel efficiency, greater aerodynamics, less noise, and more cabin space from previous models. For pilots, technology and engine design allow for smooth, safe flying. For passengers, it offers entertainment systems, full-sized luxurious amenities, and high-class décor. Get ready to sit back and relax — or make a business deal in style — whatever the situation, let the GIV-SP be your answer.
Specs:
Passengers: 13-19 (13 typical)
Lavatory: Full-sized, Enclosed
Maximum Speed: 935 km/h
Maximum Altitude: 45,000 ft.
Range: 4,220 nmi
Cabin Size: 7.3' (width) x 45.1' (length) x 6.2' (height)
Baggage Capacity: 169 cu. ft. (default)
Cabin
The cabin of the Gulfstream G-IV SP can be configured to hold anywhere between 13 and 19 passengers comfortably, which is broken into three living areas. With beige leather club seating and a conference group area that seats 4, this luxury jet is sure to accommodate you for both business and pleasure. Included is a spacious full-service galley and a full-size lavatory. With cushy seating, entertainment, and spacious amenities, you and your guests are sure to fly in high-class comfort.
Engines
While this jet has far better, and longer range than previous models, the biggest improvement is the upgraded engines. The two Rolls-Royce Mk 611-8 engines provide 13,850 lbs of thrust.
Get in touch for a complimentary buyers analysis on this Gulfstream G-IV SP.